Travel
Theater Gone Wild at SB Zoo
Summer Series Aims to Entertain, Educate Zoogoers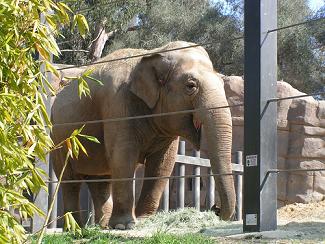 This summer the Santa Barbara Zoo is acting up a storm. Zoo events are always an enjoyment, but along with the sunny weather come three new shows that are free with zoo admission. The performances feature talented animals and their equally talented human counterparts and include messages of conservation, as well as information on animals and their surrounding world. These energetic, family-friendly events take place on the outdoor Rolling Hills Stage. After each show, the keepers, cast, and animals will be present to talk to the audience. All three shows are on rotation throughout the summer, with additional events posted at the zoo's entry kiosk.
Remarkable Reptiles provides a great introduction to the mysterious world of reptilians. Always family-friendly, children have a chance to learn about the life of a cold-blooded creature, see them, and even touch them. Meet a skink, monitor lizard, or snapping turtle, then stick around to talk to their caretakers about each animal's diet and living habits after the show. Chief, an eleven-foot long Burmese python, might even be present. This program changes daily depending on the audience, weather, and mood of the stars of the show. Currently performed on weekends and holidays, this show will join the series' regular rotation in the coming months.
Wild California celebrates the creatures of the Golden State, teaching kids about the animals that live, "right in their own backyard." Featuring both common and rare animals, the show emphasizes an appreciation for California's environment and its native creatures. The skit follows a story written by Emmy award-winners Dennis Haley and Marcie Brown, in which a world traveler comes to California and runs across a raven, snake, desert tortoise, and Charlie, the red-tailed hawk. Better yet, news of the return of the highly endangered California condor – which will be arriving at the zoo next year – will be included in the performance.
Theater Gone Wild will also feature local high school students in its conservation-themed shows. This year's talented cast includes Dos Pueblos students Shyla McDonald, Deborah Lim, Corinne Ruth and San Marcos, Kristian Sorensen, and Sean Karimian. These actors will use bright costumes, energetic dancing, and cheerful singing to deliver a fun-filled play with an important message of conservation, animal behavior, and a respect for nature. Kids will foster a love for animals in this entertaining atmosphere. Reprised from a successful season several years ago, this summer's version is guaranteed to be good time. Theater Gone Wild debuts on June 16.