Theater
Queen C at Center Stage Theater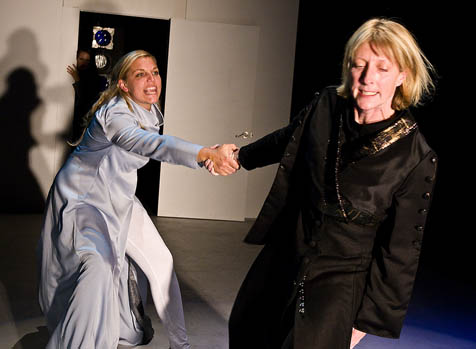 Friday night's opening of Lit Moon's Midnight Sun Festival of Finnish drama marked not only the U.S. premiere of Queen C, but also the first time a professional American theater company has ever staged a Finnish play. Present for the historic occasion was the playwright herself, freshly arrived from Helsinki. Victoria Finlayson, in the title role, strutted the stage and eyed her audience until they were seated, then, drawn by an eerie screeching, approached one door and drew it open to reveal a double bass. As the bow was pulled across the strings, six hands emerged from behind a door at the opposite end of the stage, fluttering and grasping. As in a dream, or perhaps a nightmare, there was no way to predict what might happen next, yet each subsequent scene nevertheless seemed inevitable.
Ruohonen's play explores the fascinating personality of Queen Christina, 17th-century monarch of Sweden. Raised as a boy and known by the nickname "Girl King," she ultimately abdicated. The world the playwright conjures from this historical source is far from realistic, and the play unfolds more like a surreal dream than a chronological sequence. Christina is proud, intelligent, stubborn, and desperate to escape the confines of her royalty and her gender. Christina's mother is mad from grief for her long-dead husband; Christina's cousin, Karl Gustav, is a libido-driven type who "never asked questions," as Christina's friend points out with disdain. Christina herself harbors some secret-a deep wound, a burning question, or an overwhelming desire-that plagues her. "Would you like to be a man?" her friend asks at one point. "Naturally," the queen replies. "Why on earth would I want to be a woman?"
As played by Finlayson, Christina was compelling, inscrutable, and relentless. Mitchell McLean brought moments of poignant lucidity to the boorish character of Karl Gustav, and Stanley Hoffman drew out the comedy in the French philosopher Descartes. As the queen's friend and mother, respectively, Kate Paulsen and Erin Brehm gave mature and captivating performances, and the surreal lighting design married well with Jim Connolly's evocative contributions on bass and other instruments.
John Blondell's direction captured the play's layered, poetic, and metaphorical nature-letting out the script's humor and absurdity, as well as its deep ambiguities and tragic moments. The playwright took it all in, rapt and beaming.