GETTING THE PARTY STARTED: From the never-know-what-you-miss-'til-it's-gone file comes the story of the Santa Barbara Bowl, circa 2007. Construction delayed the start of the summer concert parade and left us with a strange, queasy, unsatisfied feeling every time we rounded the corner from Anapamu Street onto Milpas Street. But suddenly, the Bowl season begins with the delicious bombast of varied sounds.
On Friday, Norah Jones returns for her third visit, with the wondrous mystery man M. Ward opening, followed on Saturday by John Williams conducting film and orchestral music, with wizardly violinist Gil Shaham, honoring the Music Academy of the West's 60th birthday. Serious music hits the Bowl! Encore! On Monday, it's back to bubble-gum culture-but tasty chewin'-with the Goo Goo Dolls, and Wednesday brings Gwen Stefani, who hit the Bowl stage many times with her old band, No Doubt. Let the Bowl games begin.
A BRIEF HISTORY OF NORAH JONES: A gifted singer, soulful beyond her years, who happens to be Ravi Shankar's daughter, busts out on Blue Note, and surprises everyone by selling 1.5 gazillion records. Her next record only sells 0.3 gazillion records, and is therefore deemed a failure by dint of measly follow-up. Such is the folly and such are the warped priorities of numbers-crunching pop music execs. Meanwhile, fans of just plain good music are left scratching their heads, soothed by the actual sound of Jones's deep, slow-brewed, and mellowed music. Gospel, country, jazz, and pop slither in and out of her work in interactive ways that seem inevitable, and yet also fresh. She gets some backlash, is dubbed "Snorah Jones" by edge-seeking detractors, and has her cred questioned as a mid-twenties artist whose main appeal is to folks twice her age. The old-soul angle returns, like a haunting refrain.
All of which is to say: Look at the art and not the artist, her family tree, or her profit margins. Jones's latest album, Not Too Late (Blue Note), is her best one yet, whether or not it scores on the radio or wherever good songs are made public these days. Jones's Randy Newman-esque waltz "My Dear Country" is just one of the treats in store on the album, along with the Todd Browning-meets-Tom Waits circus ditty "Sinkin' Soon." "Thinking about You" is a drowsy lover's soul anthem, caked with Wurlitzer and horns. However well the album does at Starbucks, it's a real beauty.
Plus, anyone cool enough to be tapped to star in Wong Kar Wai's first English-language film, My Blueberry Nights, automatically wins extra musical points in our book. Wong's masterpiece In the Mood for Love is one of the sexiest films sans sex ever made, and Jones's work, likewise, is impressionistic and healing stuff, mood music for moderns.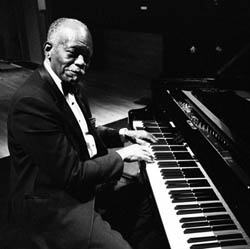 FRINGE PRODUCT: What can we say about Hank Jones, this year's jazz elder busily defying stereotypes about aging? The Mississippi-born pianist is 89, has outlived his brothers Thad and Elvin, and in his "golden years" is making some of the worthier new jazz on the scene, including what may be the sleeper hit album of the season, a duet with Joe Lovano called Kids, Duets Live at Dizzy's Club Coca-Cola (one of those prestige albums Blue Note can afford to release, thanks to the money funneled into the company coffers by the likes of Norah Jones).
No, they are not kids, but they acted like 'em in the right ways-with playfulness and creative energy. At other times, they play with depth and maturity, whether on Lovano's bopper "Charlie Chan," Monk's splinkety "Four in One," or the easy-does-it gracefulness of the closer, "Lazy Afternoon." The album's title also nods to the tune "Kids Are Pretty People," one of several charmers penned by Thad Jones.
Lovano's position in the upper echelon of living tenor players is secure, and late re-bloomer Hank Jones's legendary subtlety, inventiveness, and history-leaping vocabulary continues to amaze. We should all be so inspired when we grow up.