Dance
Summer Arts Dance Preview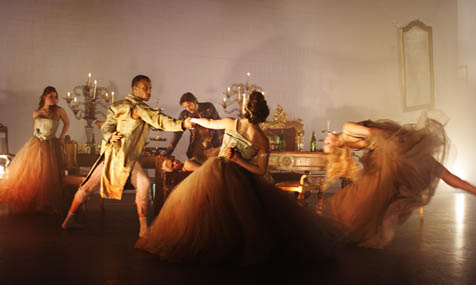 For Santa Barbara dance lovers, fall is an exciting season. Out come the glossy brochures, calendars are consulted and seats reserved, and we proceed to measure out our year in world-class dance performances, ticket stubs, and post-show coffee spoons. Then summer arrives and the cultural calendar shifts, leaving us with a strange yearning for an evening at Campbell Hall. Luckily, summer is the season for more than just wearing your trousers rolled and walking upon the beach; it's time to let your imagination linger by the sea, and shift your focus to the dance originating right here at home.
Santa Barbara Ballet Center's June Recital
The official school of the Santa Barbara Festival Ballet, known best for its yearly Nutcracker at the Arlington Theatre, holds its summer recital. Fri., June 22, 4:30 and 7pm. Center Stage Theater, 751 Paseo Nuevo. Call 963-0408 or visit centerstagetheater.org.
Hollywood
Curtis Studio of Dance, based in Carpinteria since 1973, presents its annual summer concert, with a program that ranges from the old standards-ballet jazz and tap-to acrobatics, musical comedy, and hip-hop. Fri., June 22 and Sat., June 23, 7pm. Marjorie Luke Theatre, 721 E. Cota St. Call 684-4099 or visit curtisdance.com.
An Intimate Evening of Dance Theater
Area dancer and choreographer Susan Shaberman presents her work not in a traditional theater setting, but in the galleries of the city's cutting-edge art space: the Contemporary Arts Forum. Sat., June 30, 8pm. Contemporary Arts Forum, 653 Paseo Nuevo. Call 964-3940 or visit interplaysantabarbara.com.
Ballet Santa Barbara Summer Intensive
Santa Barbara's newest professional ballet company will hold its third annual, two-week summer intensive program for intermediate and advanced ballet dancers ages 13-20. In addition to ballet classes, the program will include salsa, modern, jazz, and Baroque dance, and will culminate in a performance. Mon., July 2-Sat., July 14, 9:30am-5pm; show Sat., July 14, 2pm. For information on the intensive, call 450-7535 or visit balletsantabarbara.org. For the performance, call 963-0408 or visit centerstagetheater.org.
Janusphere Dance Company
Founded in 2006 by Santa Barbara-raised, New York City-trained dancer Darion Smith, Janusphere Dance Company gives its West Coast premiere back in the director's hometown. Smith began dancing at Santa Barbara City College at age 18, going on to study modern dance in Germany and ballet in Russia before returning to New York City, where he danced with such illustrious companies as Dance Theatre of Harlem and Metropolitan Opera Ballet. Sat., July 7 and Sun., July 8, 7pm. Center Stage Theater, 751 Paseo Nuevo. Call 963-0408 or visit centerstagetheater.org.
Invitation to Dance
The Santa Ynez Valley Performing Arts Company celebrates its 20th anniversary this year with a show that includes ballet, jazz, hip-hop, and tap. Wed., July 11-Sat., July 14, 7pm. The Little Theatre, Santa Ynez Valley Union High School, 2975 E. Hwy 246, Santa Ynez. Call 688-8494.
Company XIV
Austin McCormick is another dancer and choreographer raised in Santa Barbara and now finding success in the Big Apple. The Juilliard graduate brings his theatrically based, contemporary ballet company back home, presenting multimedia dances inspired by the writing of Charles Bukowski and the opulence of the Baroque period. Fri., July 20 and Sat., July 21, 8pm. Center Stage Theater, 751 Paseo Nuevo. Call 963-0408 or visit centerstagetheater.org.
State Street Ballet Summer Intensive Finale
The State Street Ballet Summer Intensive draws young dancers from around the nation and beyond to train full-time for one month, and to present a fully staged performance at the end of the program. Sun., July 22, 2pm. Lobero Theatre, 33 E. Canon Perdido St. Call 963-0761 or visit lobero.com.
Flamencolores
As part of their Southern California tour, Spain's Sonidos Gitanos will bring Flamencolores, their gypsy flamenco dance and music performance, to Santa Barbara. Artistic Director and lead dancer Mar-a Berm°dez is known for blending traditional flamenco and contemporary dance, and her Jerez de la Frontera-based company includes dancer Rafael Campallo and guitarist Ni±o Jero. Wed., July 25, 8pm. Marjorie Luke Theatre, 721 E. Cota St. Call (323) 663-2838 or visit fountaintheatre.com.
Cruz Studio Stage Review
Cruz Dance & Entertainment performs tap, flamenco, Mexican folkdance, jazz, and hip-hop. Fri., July 27, 7pm. Goleta Valley Community Center, 5679 Hollister Ave., Goleta. Call 964-1590.
Hot Ballroom and More
Santa Barbara Dance Center, the studio formerly known as A Fascinating Rhythm, presents a showcase of the many styles it teaches in its group and private classes, including ballroom, salsa, Latin, belly dance, and swing. Sat., July 28, 6pm. Center Stage Theater, 751 Paseo Nuevo. Call 899-2901 or visit centerstagetheater.org.
Erick Hawkins Dance Company
Santa Barbara's Motion Theatre Dance Company hosts the pioneering New York-based Erick Hawkins Dance Company for one week this summer, offering daily technique classes, creative sessions, and rehearsals with Hawkins teachers at the Carrillo Recreation Center, and culminating in a joint performance at Center Stage Theater. Mon., July 23-Sun., July 29, 10am-4:30pm; show Sun., July 29, 3pm. Center Stage Theater, 751 Paseo Nuevo. For more information about the workshop, call 455-1955 or visit motiontheatre.com. For the show, call 963-0408 or visit centerstagetheater.org.
International Dance, Art, and Music Festival
Santa Barbara Dance Alliance presents the 13th annual International Dance, Art, and Music Festival, formerly known as the Multicultural Dance and Music Festival. Entrance to the event is free. The festival celebrates the many cultures represented in the Central Coast area, and includes live dance and music performances on two stages, dance lessons, and open dancing sessions, as well as an arts and crafts bazaar and vendors selling food and drink from around the world. Sat., Aug. 18 and Sun., Aug. 19, 11am-7pm. Oak Park, 300 W. Alamar Ave. Call 966-6950 or visit sbdancealliance.org.
Moon Over Morocco VII
Belly dancer and instructor Alexandra King presents the seventh annual Moon Over Morocco festival of Middle Eastern dance, including an evening performance and a day of workshops with guest artists. Performance: Fri., Aug. 24, 8pm. Workshops: Sat., Aug. 25, 11am-4:30pm. Carrillo Recreation Center Ballroom, 100 E. Carrillo St. Call 687-8823 or visit alexandraking.com.