Visual Arts
Love, Work, and Play: Art by Philip Koplin and Virginia McCracken
At Studio Three East through July 19.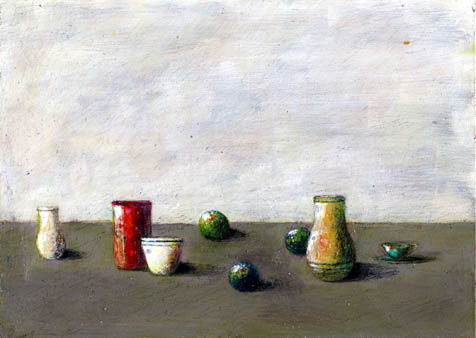 Studio Three East's director, Erika Carter, makes the most of her extensive social network with this exhibit, which allows Philip Koplin and Virginia McCracken, who happen to live together, to show as a team. Both Koplin and McCracken have vivid and instantly recognizable personal styles, and either of the generous selections of work-more than 20 of his drawings, almost 30 of her paintings-would stand up well on its own. Yet, taken together, their art creates a liberating sense of the intimacy possible in an aesthetic conversation between life partners. One is reminded of Freud's grand generalization: "Love and work are the cornerstones of our humanness"; though, in this case, "play" seems a necessary third term.
Koplin currently pursues the figure through a fascinating drawing process. Beginning with wax paper that encourages the pencil to slide along the surface in places, he gradually builds up erratic, skipping lines until they suggest a form. From there, he completes the emerging figure in the same manner, letting the obstacle presented by the waxy surface bring chance and randomness to the end result. Curiously, these "found" forms bear a striking resemblance to one another, creating a kind of anthropomorphic animal family of friendly, spooky creatures. The quality of the artist's eye is primarily what is on display here, with mechanical virtuosity in drawing taking a backseat to an intuitive sense of what to erase in order to avoid cliche.
McCracken paints in a variety of manners with a beautiful, sensitive touch. Her work in this exhibition ranges from abstraction to carefully observed still life, and is united by its scale, which is on the small side. The abstractions grabbed my attention first, with their playful use of color and firm compositional sense; but, on a second look, the still-life paintings began to jump out, recalling the painterly quasi-abstractions of Giorgio Morandi and the more hard-edged realism of William Bailey. McCracken's brilliant, jewel-like images (pictured above) give depth and abundant vitality to the monochromes of background and foreground, a technique of generating visual interest they share with her abstractions. Taken together, her works express a rare and admirable balance between consistency and freshness of approach.