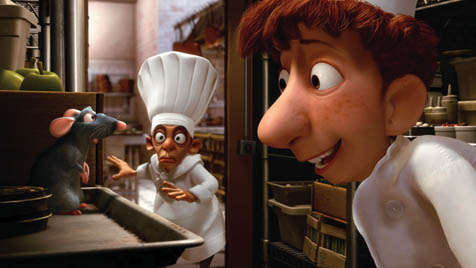 Ratatouille. Patton Oswalt, Lou Romano, Peter O'Toole, and Janeane Garofalo provide voices for this animated film written and directed by Brad Bird.
In 2004, Pixar released The Incredibles. Up to that point, previous Pixar productions were entertaining family films with dazzling animation, sympathetic characters, and a lot of heart. The Incredibles was like something from another planet-a truly grown-up fairy tale that worked for adults, looked like no other computer-animated film at the time, and whose plot unfolded like no other Disney film preceding it. It was only the second film for director Brad Bird. (His first, the magnificent The Iron Giant, was dumped by Warner Brothers during the last wave of traditionally animated films in the late 1990s.)
Ratatouille is Bird's third feature-length film, and he has managed the nearly impossible feat of exceeding expectations by crafting an expert film-a potential masterpiece-out of the story of a rat who has the instincts of a world-class chef. The film features two main characters, Remy the rodent protagonist, and Linguini, a clueless but blessed young man who is a dishwasher in a once-respected Paris restaurant. Once Remy teams up with Linguini and perfects a strange and delightful system of controlling his movements in the kitchen, however, both rat and his human host have to deal with the consequences of newfound fame.
The film is able to balance two central characters, as well as a memorable supporting cast, heroes and villains alike, with confidence and rare storytelling prowess. Unlike most Hollywood fables, which are overlong and fail to provide closure to even one storyline, Ratatouille fills its nearly two-hour runtime with delight after delight. Not a second of screen time or a moment of dialogue is wasted.
Ratatouille is pure narrative perfection, with sequences that rival even the most technically sophisticated live-action films of today. From the most minor character detail to the grandest emotional arcs, Ratatouille is a beguiling film, a gorgeous and moving modern fantasy that has more than enough to please even the most demanding theatergoer.