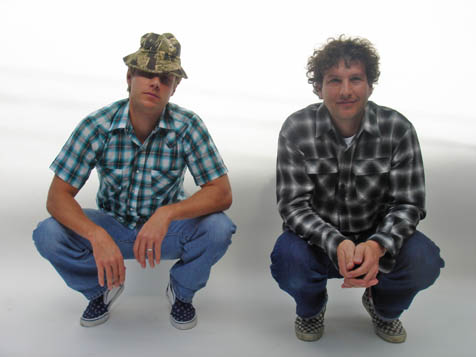 When drummer Adam Topol (pictured above right, with Franchot Tone) hooked up with an emerging songwriter named Jack Johnson back in 2000, there's no way the Lake Tahoe native could have predicted the immense waves of fame and fortune he'd soon be riding. Somehow, amid recording four albums with Johnson, jet-setting across the globe with celebrities and famous musicians in tow, and playing to sold-out crowds from Perth to Paris, Topol found the time to pursue his own projects. And as a heartbeat-steady drummer and dedicated student of percussion, those projects inevitably led him down a rhythm-lined path toward some of the smoothest music in recent memory.
In 2004, Topol released his own Latin-inspired album Ritmo Y Canto, a fresh, fun take on Cuban folklorico. Meanwhile, he and his friend/producer/guitarist Franchot Tone were laying the foundation of the Culver City Dub Collective (CCDC), a tight and promising band that has since toured the country, making stops at SOhO and the Arlington Theatre along the way.
This month, CCDC returns for a show at SOhO on Thursday, July 12, just in time for the release of its full-length debut album, Dos, later this month. It's a solid and stellar 21st-century interpretation of this soulful 'n' steady music genre, a blend of rootsy reggae sounds, bossa nova rhythms, jazzy elements, and guest vocalists – including Johnson, Ben Harper, and Matt Costa – all put together with the digital wizardry of producer Robert Carranza of Los Lobos and Beastie Boys fame.
Both Topol and Tone – the eponymous grandson of the late, great Hollywood film star – had time to chat recently from their studio in Culver City, where they reported a "beautiful view of an air conditioning unit." Here is the full version of the shortened interview that was printed in The Independent.
Jack Johnson had a pretty rigorous touring schedule. How'd you fit in your own project?
Adam Topol: It was pretty packed. We tended to go five weeks on, and then a month off. So there was definitely time, especially since I don't have any kids, I do have time, and I love music. We snuck in recording the first part with the basic tracks, then we sent the tracks out to a lot of friends who are producers and remixers themselves. So there were a lot of things that happened while I was on the road and while Franchot was recording and producing other projects too. And I had a year off, because Jack took a year off, so we had a lot more time to just do shows and get weird.
How'd you two meet?
Franchot Tone: We met up through a lot of mutual friends we have hanging out on the Westside. We come from different backgrounds, but we found an area of music where we had common ground. So we wanted to do something together, and I was just learning the engineering skills. We set up in a bedroom, jammed a little, recorded some drums, laid some guitar, and it kind of went from there. That was probably 2003, 2004, and it was total bedroom/back alley stuff. We were doing it for fun, learning the ropes, producing together.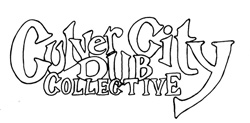 Dub is a great musical tradition, but it can be rather repetitive. How'd you two decide to do it?
Topol: We both felt the dub element was so cool as an idea, taking a conventional track and making it ambient, making it echo, turning up the bass a little, like a watercolor painting [of music]. I could listen to King Tubby for a long time, but it's a different kind of listening. If you hear a Cat Stevens or a Beatles song, you listen to it tell a story. That's one form of listening, getting inside your head. With King Tubby, it's more like a soundtrack to whatever it is you're doing or thinking.
Franchot: Dub is more like an experiential thing:It's like an environment, and it's not aggressively demanding attention every moment.
Franchot, I read you're the grandson of the famous actor Franchot Tone from early Hollywood. Do many people make that connection?
Franchot: That is true. And yea, certainly, any people who have studied acting or theater know who he is. I grew up on East Coast, though, and no one in my generation had heard of him. But now, in Los Angeles, with its heritage of filmmaking, a lot of people in my generation do know who he is. And the older generation definitely knows. I've had friends' grandmothers freak out.
Adam, you've got a long history of studying and playing world music, even once going to Cuba. What draws you to world music?
Topol: I've always been into Afro-Cuban music because, well, I'm a drummer. I still feel like it's pretty natural for a sax player to really get into Coltrane and a guitar player to really be into the blues. For me, it was natural to get into Afro-Cuban music. In Cuba, drumming is like surfing in Hawai'i-everyone does it, it's not some big deal. I would see a mom playing for her kids, and that kind of renewed my love for the music. It saved me from quitting music.
Do you think there's something more behind this explosion of interest in world music?
Tone: I get a sense that it's a reaction to mainstream pop music, music that people might have been forced to listen to in a restaurant or coffee shop or car. People are looking for something different. I want to hear different sounds that aren't native or indigenous to where I'm from.
Topol: I think too, you know, if something's good, it's good. It doesn't matter if it's gypsy music or Latin music-if it's great, it just speaks to you. I'm not from the West Indies, I'm from Tahoe, and yet, we can all get together and connect with these different cultures because music comes from the heart. Wherever it's good, I'm gonna go and be into it.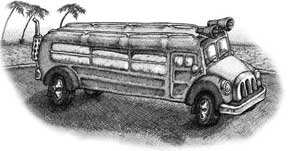 Your press kit says that you wanted to get a "uniquely 21st century sonic translation of classic reggae and bossa nova rhythms." Did you succeed with Dos?
Franchot: I think the product is incredible. I think the original vision was certainly realized, however it went so much deeper and so much further than I ever expected. Its accessibility – that was a blessing about this record, we had all these singers on it that bring their flavor to it, and add something that just instrumental dub couldn't do. It makes it more accessible, because more people can connect to the human voice than just instrumentals.
What's next?
Topol: We had 27 tracks going into this, and we settled on 13, so I think there's a ton of stuff that's waiting to find a home somewhere. So we're definitely gonna do more stuff.
Tone: The form and the process of this was so inspiring that there's more where that came from.
Is there something about dub, about world music, that's connecting people of our generation, that makes them more compelled to help?
Adam: I'd like to think so, on a bigger sense. But the common denominator for everyone who played in this record, whether it was Jay Malinowski or Franchot, is that everyone was very kind, everyone had a big heart and was helpful.
4•1•1
The Culver City Dub Collective plays with Forro in the Dark at SOhO (1221 State St.) on Thursday, July 12. Call 962-7776 or visit sohosb.com and culvercitydubcollective.com.