Dance
Darion Smith Brings Janusphere Dance Company to Center Stage Theater
Homecoming Dance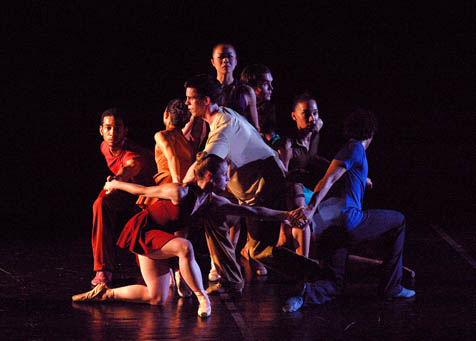 Some artists can't remember a time before they practiced their chosen art form, while others are quick to recall the exact moment of their inspiration. Darion Smith, a native Santa Barbaran and a professional dancer and choreographer currently living in New York City, is clearly an artist of the latter variety.
Smith spoke to me last week from New York City, where he was between rehearsals. He walked me through his Santa Barbara education at Roosevelt Elementary, Santa Barbara Junior High and High School, and Santa Barbara City College. When he was an 18-year-old SBCC student hoping to impress a prospective girlfriend, he took her on a date to Campbell Hall to see New York's groundbreaking Bebe Miller Company perform The Hendrix Project-an angry, high-impact, 20-minute dance set to the music of Jimi Hendrix. Something struck home. That night, Smith also met Kay Fulton, director of SBCC's dance program, who encouraged him to take up dancing. It was the perfect storm; Smith started dancing with Fulton soon after.
"I was really inspired by dance as an art form," Smith said of that night at Campbell Hall. "Being in New York, I see a lot of people who are exposed to a lot of dance and art, even in high school. In my high school, there was no dance for guys; there was a jazzercise class for girls, but I wasn't even interested in dance because I'd never seen it." Once he'd seen it, though, there was no going back. Smith went on to attend a dance workshop at San Jose State University, then won a scholarship to study at the Folkwang Hochschule in Essen, Germany. "Folkwang Hochschule is famous for producing great dancers and choreographers like Kurt Joos and Pina Bausch," Smith said, noting that the school's approach to the art form was more theoretical than most dance programs in the States and thus taught him an appreciation for theatricality. They also taught classical ballet, and, despite his interest in modern dance, Smith began to fall in love with the rigors of ballet technique. After training briefly in Russia, Smith moved to New York to work with the Dance Theatre of Harlem, the New York Theatre Ballet, and the Metropolitan Opera Ballet, before realizing he wanted to choreograph his own work. He founded Janusphere Dance Company in 2006; Janusphere's appearance at Center Stage Theater marks the first time the company has performed on the West Coast.
Smith describes the company's style as neoclassical, but cites modern dancers Bebe Miller and Jose Lim³n as his first influences. "I think at first I wanted to be a Lim³n dancer, and then I got really involved in classical technique," he said. "Ballet and partnering seemed like a whole other world. I think dancers today have to be able to do modern, jazz, and classical, and sometimes even do them all in one piece." His choreographic vocabulary reflects this emphasis on versatility and stylistic blending; in the Center Stage show, for example, all the women in the company will dance en pointe, although the choreography is contemporary, not classical.
After an injury that kept him off the stage for eight months, Smith returns to performing and will appear in the Santa Barbara show, as well as present one piece of his own choreography: "Three Layers of Glass," inspired by composer Philip Glass's music. The rest of the works in the program are by other choreographers, two of whom are also dancers in the company.
Although it feels to Smith like a major achievement to bring his own company back to his hometown, it's not the first time he has performed in Santa Barbara since launching his professional dance career. "I performed one of my own solos at a show at Garvin Theatre for one of Kay Fulton's spring concerts," he said. As for this visit, he's eager to show what Janusphere is made of. "I think people will enjoy what they see," he said. "We have really good dancers, so it's exciting for me to show the company in Santa Barbara.