Food & Drink
The Virtue of Wine Tasting
Sustainable Vine Wine Tours Offer Environmentalism de Luxe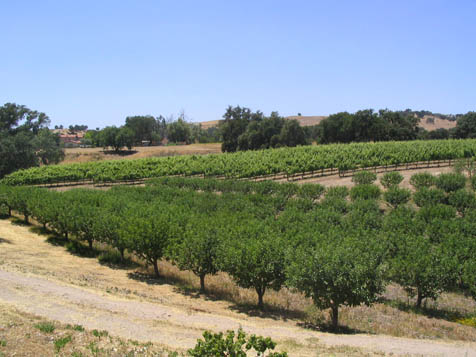 At the risk of getting booed out of Santa Barbara, I have to admit I find it slightly irritating how "going green" is suddenly all the rage. Sure, I'm glad Coca-Cola is spending $20 million on water conservation and Leonardo DiCaprio has gone from starring in movies that destroy idyllic places to being one of Hollywood's top environmental activists, but I can't turn a blind eye to the obviously self-serving motivations behind these acts.
So when I heard about a new Santa Barbara company, Sustainable Vine Wine Tours-which, for $115, offers day tours of Santa Ynez Valley wineries engaging in sustainable agriculture-the cynic in me had to wonder just how driving to the countryside and drinking wine could be wholesome. But upon an invitation from founder Bryan Hope, I took the tour myself and came away feeling awed by Hope and the growers I met-and shockingly virtuous myself, considering I'd been drinking since 11 a.m. on what felt like a mini-vacation.
A fun-loving enviro himself, Hope has struck the perfect balance between luxury and sustainability. He offers door-to-door service, picking you up in a biodiesel van. He serves a gourmet lunch in a picture-perfect setting, with food from the environmentally conscious New Frontiers Natural Marketplace. He can easily run down the problems with ethanol as a potential oil substitute, and can just as easily list optimum growing conditions for pinot noir grapes. In fact, as soon as Hope was done explaining how to tell by sight a conventional vineyard from an organic or biodynamic one (sustainable growers allow vegetation between plants to grow free, so they can cut it and use it as a natural fertilizer), he passed out liability waivers and joked, "These say I'm not responsible for your drunken behavior. : We're here to have fun."
Our first stop was well off the beaten path, but would have been worth the drive even if it weren't through gorgeous countryside and accompanied by Bob Dylan tunes. At Demetria Estate, which has been a biodynamic vineyard since 2005, we sipped aromatic pinots as growers Michael B. Roth and Brandon Sparks-Gillis explained the principles of biodynamics. Based on Rudolf Steiner's philosophy that chemical farming is both spiritually and ecologically degrading, biodynamics is a holistic approach to farming that includes the use of an astrological calendar to determine optimum days for harvesting, planting, and tasting. As Sparks-Gillis put it, "It's just about paying a little more attention." Although Roth didn't argue with Hope that biodynamic agriculture produces a higher quality wine, he said that wasn't the main reason he did it. "I do it to feel good about myself," he said. After a tour of the cellar and an oaky taste of the pinot noir right out of the barrel, we heartily thanked the growers for their generous time and piled back in the van, enjoying the countryside and Jack Johnson music slightly more volubly than we had on the way there.
On to Beckmen Vineyards, which began implementing biodynamic growing practices about a year ago but has so far opted to forego the lengthy and expensive certification process. Beckmen's spicy syrah was one of the hits of the day, and while we oohed and ahhed over it, winemaker Mikael Sigouin explained how his plants have grown much taller since they began biodynamic practices. "It's like they've been eating right and doing yoga," he said. Still, he continued, this improvement is not immediately apparent to most American critics, who tend to prefer overpoweringly fruity wine. "But if we adhere to our principles, it will happen," he added, meaning critics will develop a taste for the subtler, more elegant flavor of biodynamic varieties.
Next, we enjoyed a sunny picnic lunch at a table nestled in the vines of Ampelos Cellars and Vineyard. Since owner Peter Work was in Greece, Hope filled us in on his generous practice of giving his growers their own piece of the vineyard and a vegetable garden on his property. "He really gets it," Hope said, "that if you treat people well, people will treat you well." As Hope served us our gourmet sandwiches and filled our glasses with Ampelos's refreshing rose of syrah, it seemed he was speaking from personal experience.
Our last stop was Alma Rosa, the label wine guru Richard Sanford began in 2005 after leaving his namesake winery when his partners didn't wish to implement sustainable growing practices. The enormity of his sacrifice was immediately clear when we saw the small warehouse space serving as Alma Rosa's temporary tasting room. (They recently moved back to their original tasting room of Sideways fame.) But when Sanford himself joined us for our last glass of wine-I opted for a second splash of the crisp, citrus-y pinot gris-it was also clear his spirits remained high despite his recent business tumult. "It's great to bring people here," he said, swirling the deep red syrah in his glass. "There's such good wine [in this region], and it's good to make people happy." Everyone on the tour emphatically nodded in agreement.