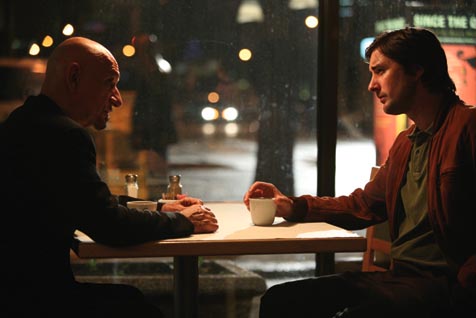 You Kill Me. Ben Kingsley, Dennis Farina, and Tea Leoni star in a film written by Christopher Markus and Stephen McFeely and directed by John Dahl.
Every summer, along with your typical third-installment sequels (some good, some awful), comes a series of "alternative programming" features from Hollywood. These are independent movies that are good enough so as not to be dumped in the No Man's Land months of January through March, and not quite good enough for inclusion in the annual September through December Oscar-contender cavalcade. Sometimes you get underrated gems, sometimes you get mediocrities. Unfortunately, You Kill Me, which arrives in spite of Live Free or Die Hard and Transformers, falls into the latter category.
In short, the film is the story of Frank Falenczyk (the absolutely convincing, cipher-like Ben Kingsley), a lowly hitman in Buffalo, New York, whose career competence is compromised by his excessive drinking. His uncle (Philip Baker Hall) sends him off to San Francisco to get sober and pull his act together. There, he meets the icy-cold-but-beautiful Laurel (Tea Leoni) and his sponsor-to-be in AA, Tom (Luke Wilson). The first 30 minutes or so of the film hint at the possibility of a genuinely transgressive black comedy; making fun of alcoholics and murderers is no laughing matter, although the deadpan screenplay provides a decent argument that it ought to be.
However, the film's real problems lie within said screenplay, and not with the superb genre director John Dahl (Joy Ride) nor with the film's excellent cast, including yet another revelatory performance by the unfairly underestimated performer, Bill Pullman, as a ruthless real estate agent. As much as the movie plays at being dark in its first act, the end result is a narrative structure that has been plucked from most by-the-numbers Hollywood romances and dressed up in superficially dark, indie-comedy clothes. You Kill Me offers the possibility, however slight, of escaping this summer's most abhorrent retreads (Pirates, I'm lookin' at you), but ultimately fails to offer a real alternative to the films to which it places itself in opposition. Despite exemplary performances all around, the material doesn't match the players, and You Kill Me feels like a tepid, Hollywood-gloss version of what could have been a genuinely slick and hilarious movie.