Columns
A Bug's Life (and Death)
Mollie Shares Her Foolproof Exterminating Secrets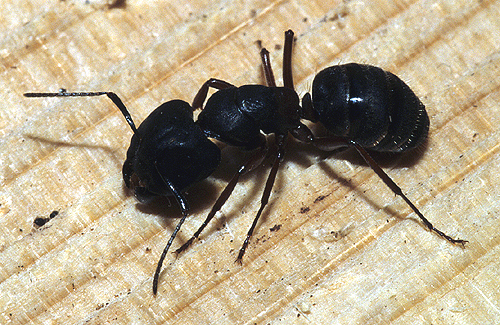 There's a war going on in my own home, and I don't mean to sound cheesy or anything, but at this point, it's me or them. No, I'm not talking about rude roommates, rowdy neighbors, or ridiculous landlords. The enemy I'm facing is much more insidious than any of those things, individually or combined. This enemy is sneaky, conniving, and seemingly self-regenerating. It's pure evil in a way usually reserved for villains with hairless cats and names that inexplicably start with "Doctor."
I have faced this adversary before, and will probably face it again, even after this particular battle is either won or lost. As far as I know, there is no way to permanently defeat it. In fact, for every battle I win, it seems like the enemy comes back stronger, sneakier, and slightly meaner. My only hope is to try and stave off a full-scale invasion for as long as I can, because the only true way I know of to stop the enemy from taking over completely is to wait until it naturally dissipates during fall and winter.
I am, of course, talking about the bane of every Isla Vistan's summertime existence – insect infestations. It seems like every year, once I pull out my sundresses and sandals, it's only a matter of time before my house becomes a warm weather hostel for all manner of creepy crawlies. From ants to bees to spiders and flies, if it has an exoskeleton, chances are it's planning on partying at my place over summer vacation. Now, I know I'm not the only one who faces this problem on a disturbingly regular basis.
I had friends innocently living on Camino Del Sur two summers ago, who did not realize their kitchen had been completely captured by cockroaches until they accidentally cooked a whole bunch of them in the oven during a dinner party. Suffice it to say, nothing ruins a perfectly good batch of Costco dumplings like a side order of roasted roach. Back when I lived with my parents, insect invasions were an easy problem to solve. Simply call the exterminator, clear out while he or she sprays, then sit back and enjoy a blissfully bug-free summer. Unfortunately, now that I'm in college and paying my own bills, expensive exterminators are out of the question. I'm as stingy as my landlord is – and vice versa – so spending money to kill a few creepy crawlies isn't really an option.
So, since necessity is the mother of invention and all, I've come up with some fairly effective means of squashing the summer swarms that only require the things I already have laying around the house. There's no expensive exterminator required, and the best part is that most of my methods don't even require a call to my landlord – good news if, like me, you try to avoid inviting your landlord over to inspect all the ways your beer pong tables and outdoor toys are sullying his pristine property.
First of all, the most utterly obnoxious of all the summertime swarmers have to be the ants. They come out of nowhere, multiply at seemingly impossible rates, and crawl indiscriminately over every square inch of unprotected food, furniture, and skin they can get their buggy little legs onto. Simple solution: Windex. Spray it wherever you have an ant problem and not only will you kill the creepy crawlies immediately (making for easy wipe-up afterwards), you'll also prevent them from returning. I don't know why or how it works, but in my experience, whenever you use the weapon of Windex, the ants tend to avoid the area you sprayed for weeks after they deploy.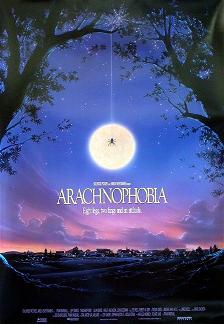 Speaking of sprays, my favorite insect-destroying trick has to be hairspray – a particularly effective weapon against those most creepy of crawlies: spiders. Now, I might be biased, since I've been dealing with a deep-seated fear of spiders ever since I saw Arachnaphobia at the age of seven and developed a phobia rivaled only in intensity by the one I have of clowns – courtesy of watching Stephen King's It right around the same time. But, in my opinion, spiders are the worst insects to have invade your home. There's no way I can handle hand-to-hand combat with spiders; I generally just end up screaming uncontrollably until someone braver comes along to squash any arachnids I encounter. But I have found that a generous stream of hairspray is enough to put even the largest and most menacing of spiders out of commission, making it much easier for me to leave the scene of a spider showdown and go find someone to actually dispose of the thing's remains; rather than waiting and watching to make sure the damn critter doesn't crawl out of sight or reach.
Finally, the third most common and most creepy of summertime crawlers have to be the bees. They don't generally tend to venture indoors – at least not at my house, where there's plenty of backyard for them to happily inhabit. But, when they do, it's a mad dash to the door for me – accompanied (of course) by lots of screaming about how I'm allergic and someone else needs to scare the buzzing bugger away. The simple solution to this problem comes courtesy of my former boss. [Be warned, this method is not for the faint of heart, or the allergy-prone] If you are, indeed, a braver soul than I, try putting a little honey, syrup, jelly, or juice into a saucer or shallow bowl. Wait until the bee inevitably takes the bait, then put another bowl or plate on top of it and take it outside. Watch out when you release it though, the bee is generally going to be mad about having been hoodwinked and may try to turn back around and sting. Trust me, I've seen it happen.
If my insect-killing tips don't work, and you find yourself nursing a bug-related battle wound, try putting some toothpaste on it. The chemicals in the paste, especially the mint kind, will dry out itchy bug bites and make them a lot less annoying. Plus, you'll smell minty fresh all day. If you're still struggling, call your landlord. It's their legal responsibility – in most cases, although it depends on the lease – to take care of property-related problems such as inordinate insect infestations. And, if all else fails, you can always try to develop a taste for roasted roach. I hear it's quite good.