Outdoors
Zaca Fire Crosses the Manzana
Fire Makes a Run Up Hurricane Deck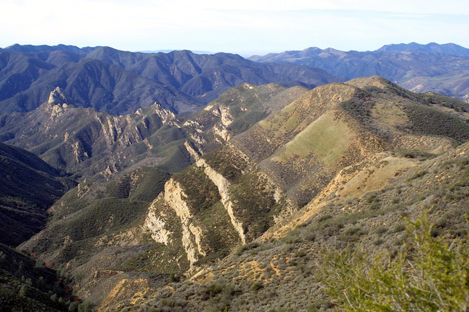 6 a.m. Monday Morning
Incident Command Center
The Zaca Fire has officially crossed Manzana Creek and made a serious run up through heavy brush into the heart of the San Rafael Wilderness. As of 7 p.m. last night, the leading edge of the fire had extended along the crest of the Deck in finger-like fashion, threatening the entire wilderness area.
Adding to their worries are predictions of monsoon weather patterns that could cause lightning strikes.
There is good news, however. Dozer crews have opened a route for fire personnel to reach Dabney Cabin and the Cody homestead. Though a few small outbuildings on the Cody property have burned, both the cabin and Cody's place have been saved. It appears the Schoolhouse is out of danger as well.
What had been a small fire just five days ago now threatens to burn out the entire San Rafael Wilderness. Chaparral moisture is dropping to critical levels, with the vegetation dropping to about 60 percent of its normal live weight. It is ready to go.
"The fire has entered an entirely new phase," Rich Phelps, a Forest Service spokesman explained. "When the fire began on July 4th, crews moved quickly to establish containment lines on either side.
"What you hope to do is build a box around the fire and contain it as soon as possible. But the fuel has made that impossible. Unfortunately here, the box is getting bigger and bigger."
It appears today will be a pivotal day for firefighters. Though it is probable the fire will continue in an eastward direction along the Deck, it also has the potential to swing counterclockwise, cross the Sisquoc River east of the dozer lines, and cut back westward towards the Tepusquet Peak area.
Regardless of its path, we are no longer talking about holding this fire at 10,000 acres. The entire wilderness is now up for grabs.