Columns
Plans Unveiled for San Ysidro Pharmacy Property
Montecitans Pleased with Plans; Plus, What's Up with Highway 144 and the Coral Casino
One of Montecito's few commercial corners – the one on the northwest side of San Ysidro at East Valley Road that showcases the locally loved San Ysidro Pharmacy – is gearing up for a major refreshment. On Tuesday afternoon, property owner Richard Gunner and project architect Don Nulty gave a preview to the Montecito Association.
This busy Montecito corner, boasting one of the only two traffic lights in town, imbues semi-rural qualities so typically characteristic of the village. The Gunner site, sitting on 1.3 acres, houses such businesses as an antique store, a high-end florist, a home accessory shop, a real estate office, a medical building and, of course, the well known Tom's pharmacy and cafe.
The new plans, Montage hears, call for keeping the current look of the corner. Several of the turn-of-the-century style cottages will be saved, including the buildings housing the pharmacy, William Laman's, Scott Hogue Florist, and Country Home Antiques. Seven new cottages will be added in the back of the property, but a 2,000-square-foot building – currently in the center of the site and being used for medical offices – is beyond saving and will be demolished.
Gunner's total proposed project will consist of 14,000 square feet of general neighborhood commercial space, adding 5,000 square feet to what is currently on the ground. The proposed plan calls for improved traffic circulation and a total of be 57 parking stalls, providing a much needed 10 new slots.
The site plan also features some attractive pedestrian friendly amenities, including a red brick sidewalk, shade-tree landscaping, and several resting benches. These details, which provide for community comfort and visual harmony, have not gone unnoticed by Montecito's leaders.
"This project has a nice scale that seems to fit with the community," said Victoria Greene, executive director of the Montecito Association. And, MA's president Bill Palladini concurred. "Mr. Gunner's approach to the property has been very sensitive to the community. He has gone to a lot of trouble to consider our community, and make the project a public discussion."
Palladini added he found Gunner's approach refreshing. "Gunner is not a typical developer. He is really looking for community input – his attitude is just terrific." Palladini said Gunner, who is a part-time resident of Montecito, did a similar project in Carmel. "I've heard it was very nice," Palladini commented.
The Montecito Association preview served as a courtesy community unveiling, but it was not part of any official permitting process. A formal application to the county has not yet been filed, so there are no scheduled reviews for the Montecito Board of Architectural Review or Montecito Planning Commission.
QUESTION OF THE WEEK: The Montage switchboard has been lighting up and the question is the same: Will the Coral Casino meet the July 30 planned re-opening deadline? We
contacted Erinn Lynch at Ty Warner Hotels and Resorts and she sounded cautiously optimistic.
"As you well know," said Lynch, "construction schedules can be a bit evasive and unpredictable, but our crews are working hard to meet our deadline to allow members back the first of August."
FULL CIRCLE: On Monday, Supervisor Salud Carbajal hosted an emergency meeting of safety professionals, community leaders, state decision makers, and county emergency preparedness pros to discuss long-range solutions for emergency use on State Highway 144. Highway 144, better known as the west end of Sycamore Canyon, is a small but significant stretch of road that links Montecito to the city of Santa Barbara. It was the site of a severe landslide in 2005, which blocked the thoroughfare. Road access has remained dicey ever since.
Attending the meeting along with Carbajal and his aid, Jeremy Tittle, were Jim DeBoo, Assemblymember Pedro Nava's chief of staff who flew in from Sacramento just for the meeting; Caroline Vance, Nava's field rep; Michael Harris, director of the County Office of Emergency Service; Chief Kevin Wallace, Montecito Fire District; Deputy Chief Mitch Vaughn, Santa Barbara City Fire; Lt. Donna Maulucci, California Highway Patrol; Sgt. Bill Caldwell, Santa Barbara County Sheriff's Department; Bill Palladini, Montecito Association; and on the hot seat, Steve Price, deputy district director of Caltrans.
Recent attention has been focused on the blocked road because of the severe fire alert conditions, causing some residents to fear a locked gate might impede escape. Right before the Fourth of July, Montecito Fire felt conditions warranted an open gate, but the following Tuesday, Caltrans closed the gate. On Monday, with temperatures now cooled, Supervisor Carbajal wanted to investigate gate protocols and authorities.
Price explained Caltrans' position, which, because of ongoing litigation, Montage must skirt for now. But suffice it to say, no good deed goes unpunished. The long and short of it is this: When Caltrans stepped in to open a road on slipped land they did not own, they created an over-$50-million-dollar lawsuit for themselves.
Not willing to play "fool-me" twice with taxpayer money, Price made it clear Caltrans does not plan to touch any more dirt on 144. Take this Montage hair-raising tip: Driving on 144 is a clear risk to public safety, the gate is locked for a good reason. This is a geologically dynamic area and, for the time being, until the owners repair the slide area above the road, do not use 144 unless instructed to do so in an emergency.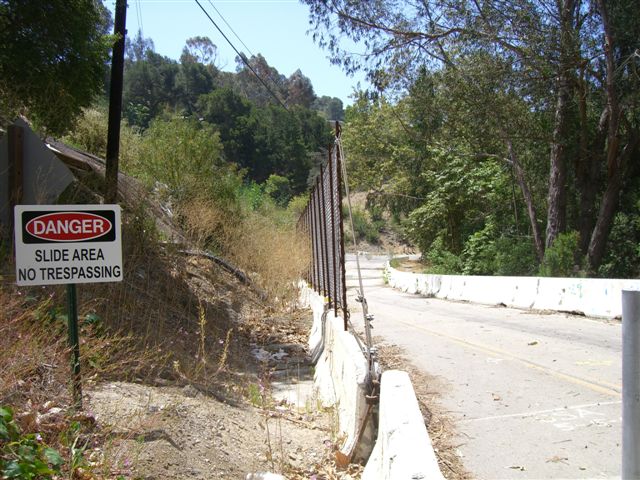 After nearly two hours of round-and-round roundtable brainstorming, Kevin Wallace and Mitch Vaughn, the fire professionals, convinced the gathering to go back to the fire department plan, laid out months before. Here it is: If fire officials feel conditions warrant it, they will open the gate for emergency use only. The fire officials said they believe the gate could be opened within minutes.
"I came away for this meeting with a much better appreciation of the situation," Supervisor Carbajal said. "I think we have the right protocol for the red flag days, but to open it for the whole fire season just has too many implications."