Living
Mark Warkentin's Open-Ocean Quest for the Beijing Olympics
Dolphin Man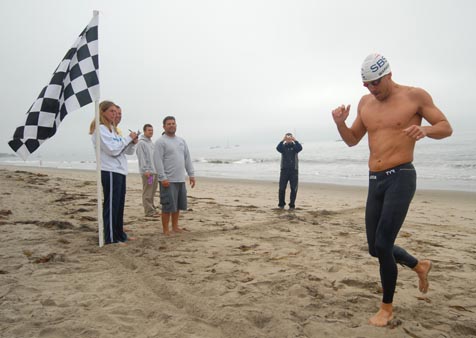 Mark Warkentin is a rare human being who might be able to hang with a pod of dolphins. He'd be the funny-looking one with the long, skinny flippers and the tiny snout.
"He's swimming as fast as we can walk," said an East Beach stroller who was maintaining a brisk pace last Saturday along the shoreline. Swimming on a parallel course 100 yards offshore was Warkentin. He was on his way to his third consecutive victory in the Semana Nautica 1-Mile Open-Water Swim. He swam the distance in 20 minutes and 46 seconds. He had time to start an interview before the next swimmer finished more than 90 seconds later. Strung out behind them were 105 others, the last of them trudging out of the surf after Warkentin had gone home.
He would return the next day and dominate the 3-Mile Semana Nautica race. Whenever Warkentin lines up for the start of a Santa Barbara ocean swim, everybody else is racing for second place. The 27-year-old San Marcos High grad is among an elite group of aquatic athletes who have emerged from the confines of pools to ply the world's waterways. The sport of open-water swimming will make its Olympic debut with a 10-kilometer race at Beijing next summer.
Warkentin swam those 6-plus miles at a 13-minute pace last year. "It was a downriver 10-k in the mouth of the Amazon," he said. "I won in an hour and 20 minutes. It has to be one of the fastest times ever swum." He was understandably in a hurry to get out of the water. "The race director said there were no piranhas in that part of the Amazon. The water was too dirty."
In other locales, Warkentin has had the company of sea turtles, seals, and dolphins. He admits to no shark sightings. "There's a cardinal rule that you don't talk about sharks," he said. "If you don't see it, it's not there."
Nor does he acknowledge pain. Warkentin wins many races simply because he can push himself harder for a longer period of time than anybody else. He is a two-time national champion in the longest sanctioned open-water distance of 25 kilometers, a race that takes more than five hours. No other competitor stayed within 15 minutes of him. He finished fourth in the 25-k race at the World Championships in Melbourne this year.
"The drive that Mark has to be an Olympian helps him shut off the pain, the long training hours, and the thought of what he's missing," said John Dussliere, coach of the Santa Barbara Swim Club. "Another critical factor is the support of his family, his wife, and his parents." Warkentin's wife, Diana, is a preschool teacher. His father, John, is a former national decathlon champion.
Warkentin has a respectful relationship with his coaches, Dussliere and UCSB's Gregg Wilson. "Some coaches are on power trips," he said. "I've never needed somebody to tell me I'm not working hard enough."
In spite of his prodigious work ethic, Warkentin was always a tick too slow in his attempts to make the U.S. Olympic team as a distance freestyler. He thought his career was over until he discovered the open-water world two years ago.
"You're either an Olympian or not in swimming," he said. To become an Olympian, he will have to be smart as well as fit. The U.S. open-water trials on October 21 at Fort Myers, Florida, will be a tactical challenge. The 10-kilometer distance is not far enough for a swimmer to go solo and break away. The race will come down to a closing sprint.
In preparation, Warkentin is off this week to the Olympic Training Center in Colorado Springs for high-altitude training. That means somebody else will have a chance to win the 2007 Semana Nautica 6-Mile Ocean Swim. The swimmers will start at
9 a.m., Sunday, July 15, at Goleta Beach, and finish at Hendry's Beach.