News
Adelaide Ortega Sees Past Her Blindness
Outta Sight
I met Adelaide Ortega in April at the conclusion of the California Blind Golf Classic in Lompoc. She had parred the 17th hole and her emotions were soaring on the wings of eagles. Her drive carried a water hazard and skirted two sand traps to reach the green. "My first par," she grinned broadly, looking toward her coach, "he was so excited." Playing golf while blind is a team sport. Major responsibilities rest on the golfer's coach, the person with working eyes who scouts the landscape, advises on club selection, and aligns the golfer with the ball. Ortega's coach is Chip Milne, 71, a retiree who shoots in the 80s at Muni.
"I was more excited than she was because I saw it first," Milne laughed. "She heard about it from me." From 20 feet, Ortega two-putted for her par. It was her first in four years of competition at this tournament and a notable achievement in blind golf, in which pars are valued as highly as birdies among sighted golfers.
In the warm afternoon sun in front of her house on Olive Street, formality is alien. Ortega, 61, wears a pale yellow Jimmy Buffett T-shirt. She tells me her story, beginning with golf but including the parts about her baskets and her father and the spirits. "Our volunteers at the Braille Institute are fantastic. They invited us to go out to Sandpiper. I went because I'd never tried it before. I thought, 'I'll try it and see what happens.'"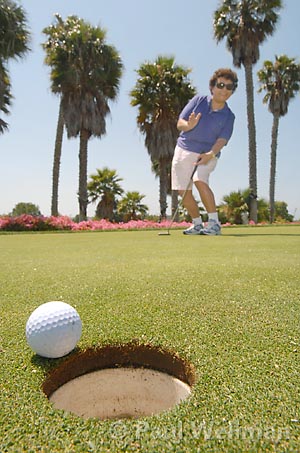 Never having played, nor ever having been particularly athletic, she had to start with the basics and the blind golf credo-"the ball gets in the way of the club." If her backswing and swing are consistent and she begins with her club at the ball, where her coach positions her, she will connect, at least theoretically. "When you hit that sweet spot, it sounds beautiful-as good as when the ball falls into the hole. I love that sound-plunk." She plays weekly with a group from the Braille Institute. After 10 years, she is still improving. "I actually can hit the ball a lot more often," she laughs. Golf is a walk in the park. Her approach to the sport is less than intense. She savors the outdoors, listening to the birds with the sun and wind in her face. It reminds her of her childhood when she read her surroundings to find her way back from Red Rock to Paradise.
Many blind people lose their sight gradually through degenerative diseases. For Ortega, it vanished virtually overnight. "I woke up one morning with double vision. The doctors didn't believe it. It mostly happens in the Midwest or to people who have traveled out of the country," she recited without emotion. The culprit was truly obscure-ocular histoplasmosis syndrome, which develops in rare cases in the aftermath of a fungal infection. Within a year, 1984, her vision was gone in her left eye and reduced to light and dark sensations in her right.
"For nine months, I was so depressed. I couldn't see my little boy's face anymore. I couldn't fish anymore. I was going through a divorce. Sighted people wouldn't talk to me. They'd ask, 'What does she want?' Nobody understood how I felt. It was the worst time of my life. You think about all kinds of ugly things. You think about suicide."
She switched jobs to one that demanded less of her eyes, then to another, pumping gas. Then, one day, she could no longer read the numbers. She brooded over where a blind and unemployed single mother could live in expensive Santa Barbara. "Nobody in my family was blind. Nobody knew how to cope."
She thought for a moment about her family. "I never knew two people more in love than my parents. My father was Chumash." His name was Reginald Robles. When she was a child, the family spent summers at Paradise campground upstream from Santa Ynez. "But can't we go to Disneyland?" little Adelaide would wail. "Why do we have to come here with all these Indians?" A construction laborer, Robles would lay out canvas on the ground at Paradise and the family would sleep under the stars. Other campers brought more elaborate gear. Ortega asked why her family couldn't have that. "Oh, what for?" her father answered. "Those people can't see the stars."
"He would take us to Red Rock and make us find our way back. He made us pay attention to the wind and the smell. He said, 'You pay attention to where you are.'"
"My father believed in the great spirits. He believed everything is alive, that there are spirits to help us through hard times," Ortega said. "He told stories about the stars and animals and trees. We may not like one another but we are all connected, he believed."
But in 1984, folk wisdom was not enough for his blind and depressed daughter. Finally, her family sought professional help. "They took me to Braille Institute and left me, just left me. The Braille Institute saved my life," she said with conviction. There Ortega met other blind people and discovered they told stories like hers. She learned day-to-day survival skills, and baskets. Her baskets tell her story, her life richer now than her life with sight. The richness seems linked in some invisible way to her father.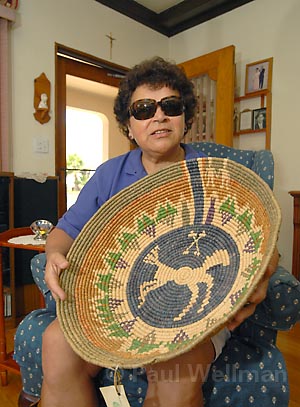 She leads me inside and brings out a plastic bag of hand-woven baskets dating back 20 years. She now weaves them on commission. "When I put my baskets together, I try to put my father's stories in them," she said. "This is my first basket. It's black in the middle. The blue is the tears." She pointed to scattered small bodies. "My body is falling apart. And the car, that's what I miss the most-independence. These hands are reaching out to help me. I'm not finished with it because I'm not finished with me."
In each basket, each figure is precise with crisp lines demarcating one color from another. As she tells each story, she traces the colors and figures with her fingernail, as if she could see them. "Wait a minute," I think. "Are you really blind?" I grasp for words. "How do you do that?" I ask. "The colors feel different," she replies. I run my own fingertips across the stitches. They can feel no lines, no ridges, no patterns, no differences whatsoever. Whatever it is, it is beyond tactile.
Ortega's baskets are not made with traditional Chumash materials or designs, but basket maker Anna Campbell, who has seen Ortega's work for 20 years, has found a link. As director of the Chumash basket project at the Santa Barbara Museum of Natural History, Campbell traveled in 1983 to the British Museum in London. There she studied baskets purchased from Santa Barbara area natives by the Vancouver Expedition of 1792. "There was a motif on some of the Vancouver baskets-they looked like music notes," Campbell discovered. Several years after Campbell's trip, Ortega showed her some new baskets she had woven. One had music notes of the same description. "When I saw her music notes, my whole body broke out into goose bumps," Campbell marveled. "They were very similar. She, on her own, came up with a traditional design element. It's almost like she had an inborn feel for Chumash basket design."
Reginald Robles had not been a weaver, but through his stories, and even personally, he seemed to escort his daughter along the paths of a new life. "When I lost my eyesight, he taught me how to mow my lawn. He'd sit and watch me." One day in 1997, her father was bedridden. She was mowing her lawn. "I turn around and there he was, and I can't see! There he was, wearing his red checkered shirt he always wore. A couple hours later my sister called and said, 'He's passed away.'" And he came to her another time. "One day I walked by a big building on State Street and I felt the wind blow by. Maybe he was whispering in my ear. I almost stopped and cried."
Ortega's life is full. She is president of the Santa Barbara Chapter of the National Federation of the Blind. At the Braille Institute she teaches basket weaving and ceramics. She does frequent speaking engagements. At La Casa de la Raza she has taught ceramics to youth for nearly a year. Ranging in age from elementary to high school there are about a dozen students, mostly girls.
"At first, they were really shy about my blindness. They didn't know what to say. Then I brought my pottery and baskets. The next week they started to ask me questions." Several months ago she proposed a field trip-to the Braille Institute. "They really enjoyed it. I think basically they're good kids. : Some of them don't trust anybody. Some are just pissed off at the world. 'It's my life. I can do what I want,' they say. But that's not true, I tell them. Your life touches everybody else's life."
"Since I've lost my eyesight, I have met the most interesting people. I've met doctors, lawyers, school principals, woodworkers, the kids. I never would have taken the time to meet them. None of the things that have happened to me would have happened if I had not lost my eyesight," Ortega said.
I tell her she makes it sound as if losing her sight was a blessing rather than a curse. She sits silently for a moment. "It may be. It changed my life."