Arts & Entertainment
Concert Review: Tuesdays at 8
July 10 concert offers four pieces, three of them well-known compositions presented in unusual arrangements, the fourth a short "Hika"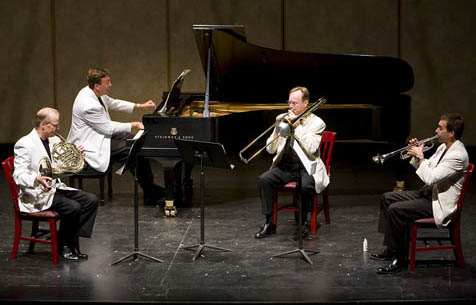 July 10's Tuesdays at 8 concert offered four pieces, three of them well-known compositions presented in unusual arrangements, the fourth a short "Hika" (elegy) for violin and piano by the 20th-century Japanese composer Toru Takemitsu.
The opening number was Richard Strauss's Der Rosenkavalier Suite arranged by Eric Lagace for horn (David Jolley), trombone (Mark Lawrence), trumpet (Paul Merkelo), and piano (John Churchwell). Full of unexpected twists and turns, this spare approach to Strauss's opera succeeded in recalling and illuminating the sequence of dramatic situations from which it was adapted. The group's playing was uniformly excellent, full of the humor and emotional intensity of the operatic source.
The Takemitsu Hika allowed Jeff Thayer (violin) and Natasha Kislenko (piano) to give string players in the audience something to think about, but the night's quest for new sonic frontiers began again in earnest with the next composition, Benno Sachs's extraordinary arrangement for 11 instruments of Claude Debussy's familiar Prelude l'aprs-midi d'un faune. This is among the most unforgettable pieces of music ever written for the flute, and Timothy Day received a well-deserved second callback for his playing. Debussy's original inspiration was a poem by Stephane Mallarme that uses the idea of mythological nymphs and fauns to explore the sexual daydreams of a neurotic middle-aged man. Despite (or perhaps because of) the work's roots in the risque side of French Modernism, it is one of the most influential of all classical compositions, with admirers around the world and in nearly every genre of music. Jazz in particular got a huge boost from this piece-Gil Evans's work with Miles Davis would be unimaginable without it.
Richie Hawley took the soloist's seat in the evening's highlight, the Clarinet Quintet in B Minor, Op. 115 of Johannes Brahms. Question: How do you make a 40-minute piece of chamber music seem short? (No, the answer is not "take a nap.") The real answer: Be Brahms. Special mention should be made of Kathleen Winkler's violin playing, which was balanced, warm, and serene in the knowledge that she was playing something very like perfect music.