Band: The Founding Mothers.
Members: Tommy Quayle (vocals, bass), Scott Branch (guitar, vocals), Michelle Osborne (guitar, vocals), Albe Bonacci (drums), Kelly Cox (vocals), and Tom Murphy (guitar).
Albums: Constitution (July 2007).
Style: Classic rock 'n' roll with political commentary, and a side of blues and folk.
Influences: Rolling Stones, Neil Diamond, the Kinks, Bonnie Raitt.
Prior Gigs: Santa Barbara Art Studio.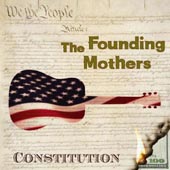 The Skinny: Jamming together casually since the early '90s, this gang of disillusioned Americans regrouped a year ago to record a CD, raising their voices in the chorus of those disenchanted with the political, economic, and moral directions of the United States. Lead singer/songwriter Tommy Quayle pens most of the witty lyrics, like those in "Home Here Drunk" that follow him as he watches "baseball and the war on my split screen," and sings "I can't recall what became of Osama bin Laden / He was traded for a draft pick and an old guy named Saddam." With Constitution, the band hopes that "progressive-minded people will feel less alone in their convictions and know that there is strength in numbers for the good causes," and, of course, rock out.
Upcoming Gigs: Constitution's release party is at SOhO on Sunday, July 22.