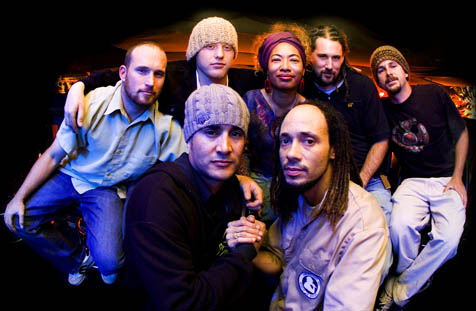 REGGAE FOR A CAUSE: At 6 p.m. this Saturday evening, under the warm glow of a rising full moon, the Condor Express will set sail from the Santa Barbara Harbor, its decks and cabins filled with the sounds of sweet reggae music. And while the three-hour tour will no doubt be a party of epic proportions-with beer and wine flowing and irie smiles blowing in the wind-the voyage is about much more than the musical offerings of Cornerstone and the gathering of friends new and old. Organized by the Star Jasmine Music Organization, the night is a celebration of the all-too-short life of Jasmine Cheyenne Bitts and the realization of her mother's dream to turn Jasmine's tragic passing into something beautiful and enriching for the community.
Jasmine's life was cut short just days before her 10th birthday when the budding singer/songwriter was killed in a cabin in Northern California by a falling 120-foot Ponderosa pine. In the years following Jasmine's death, her mother, Nancy Lee Earle, formed the Star Jasmine Music Organization and released a memorial CD featuring work from some seriously heavy-hitting music biz names like Kenny Loggins, Dave Mason, Ginger Baker, Jackson Browne, Steve Winwood, and Van Morrison.
Now continuing in the same vein, Earle has turned her focus towards opening up JAMS, a South Coast-based music school for children of all ages. With local public schools forced to slash funding for music programs, Earle envisions JAMS as a place where kids from preschool to high school can come together and have access to instruments, instruction, and recording technology in an earth-friendly, solar powered, octagon-shaped adobe building complete with an amphitheater.
Though still in the early stages, Earle has already secured pledges from several local builders to help construct the school, as well as recording studio equipment and a long list of ready and willing teachers. Despite this progress, there is a long road ahead before the JAMS dream can become a reality. To that end, Saturday night looks to be a vital and highly enjoyable step (or skank, if you will) in the right direction. -Ethan Stewart
REDEFINING POP: Since SOhO will be the final stop on singer-songwriter Sam Shaber's 10-year-long tour, this will not be one to miss. Often considered "raw pop" at its finest and most original, Shaber describes her sound as "not so slick : I like it when it's kind of messy." With songs such as "Bare"-which Shaber dared herself to write using only two chords-or the popular "Cryin' Shame," that comes complete with a Scottish accent, challenge seems to be Shaber's middle name. "My goal as a musician is never to repeat myself : I get bored quickly," she said.
During her decade-long musical trek, Shaber has given up many of her set lists to the discretion of her fans, who are encouraged to email their picks for upcoming shows. "Some of the greatest moments on stage are when someone requests a song I don't know very well : I kind of have to work at remembering and use the audience to help me," Shaber said.
The musician has also been in a perpetual state of her self-declared Taper's Tour. "It's fabulous when people tape the tour," Shaber said. "Music has gotten into weird territory these days, so if people want to tape shows and spread it, that's just great : there are some incredible bootlegs out there."
But this will not be the last we hear of Shaber. After a brief breather to record a new album with her new L.A. band, The Bones, she will undoubtedly be back on the road, ready to move her audience from tears of laughter to tears of sorrow with the simple strum of a chord. Come see her at SOhO on Tuesday, July 31. -Stephanie Flint
ALL BREEDS OF ROCK: Jensen's Mainstage will rock with a little extra fervor Saturday night when Damaged Goods, Cerro Victoria, and Kill Ugly Radio take the stage. Damaged Goods, an old-school punk band that reminds us how O.C. surf punk is supposed to sound, is a grab-bag full of ex-members of groups such as The Undefeated and West Coast Riffs. Cerro Victoria, a psychedelic three-member band with a sound as colorful and mesmerizing as its album's cover art, is celebrating the recent release of its first album, Island of the Sun. And Kill Ugly Radio, an alt-rock band so young it is just starting to crawl, will take a break from working on its first album to join its musical siblings for an all-inclusive night of rock with an exclamation point. It all goes down at 7 p.m. this Saturday, July 28.– SF