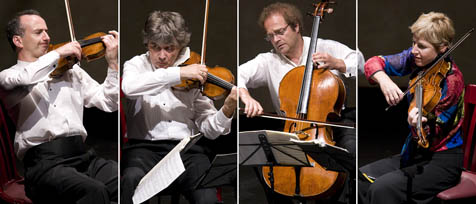 In one of the Music Academy's highest profile concerts of the season, the Tak¡cs Quartet played three of the most popular string quartets in the classical repertoire on Thursday to a large and enthusiastic audience at the Lobero. The quartet, which is Edward Dusinberre, first violin; K¡roly Schranz, violin; Geraldine Walther, viola; and Andr¡s Fejer, cello, has a great reputation internationally, both for their comprehensive recordings of Beethoven and Bart³k on Decca, and for their new Schubert disk on Hyperion, which includes "Death and the Maiden."
First up was the String Quartet No. 12 in F Major, Op. 96 of Antonin Dvošk. Known as the "American" quartet, the piece was composed in 1893, during Dvošk's summer living with his large family on a farm in Iowa, where he was a visitor to the Czech immigrant community of Spillville and a recipient of a composition fellowship from the National Conservatory of Music. On its own, and, as here, counter-programmed against more classically minded works by Shostakovich and Beethoven, the work is delightful and the group gave it a spirited, rhythmically precise rendition.
Shostakovich continued writing classical string quartets well into the 1960s, a fact that plays havoc with the popular misconception that real classical music stopped being written after the so-called "long 19th century." His String Quartet No. 11 in F Minor, Op. 122 was written in 1966. This profoundly moody and suggestive piece of music gave extensive opportunities to Schranz, who sounded wonderful. The structure-seven movements played continuously-allies it with Beethoven's Quartet No. 14 in C-sharp Minor, Op. 131, which also has seven movements and which Tak¡cs played after the intermission.
Beethoven's late string quartets belong on any list of the wonders of the classical music world. Like the pyramids, they demand attention for their sheer size. This one, clocking in at 45 minutes, is so full of ideas it perpetually seems on the verge of exploding. Any chance to listen to this music live deserves our attendance and respect, but in hearing it played live by the Tak¡cs Quartet, one also gets to hear a long standing ovation and many much-deserved shouts of acknowledgment.