Arts & Entertainment
Indie Band The 88 Plays Velvet Jones
Another Stop on the Foursome's Summer Schedule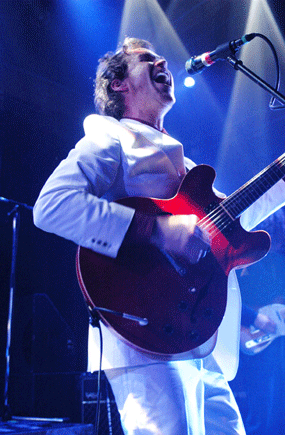 Los Angeles indie rock-pop powerhouse The 88 will be tearing up the stage for one night of guitar-infused, up-tempo music at Velvet Jones on Thursday, August 2, at 9 p.m.
The Southern California natives first introduced their angular guitar licks, and catchy piano tunes to the music scene in 2003 with their release of their first album, Kind of Light. Their sophomore album-Over and Over, released in 2005-featured songs such as "Coming Home" and "Everybody Loves Me," which showcased the significant musical growth the band has enjoyed. The release of their second album helped The 88 transition from underground venues and into mainstream stardom, resulting in a contract with Island Def Jam Records, appearances on TV shows like The OC and The Jimmy Kimmel Show, and tours throughout Canada and the U.S.
For ticket information contact Velvet Jones at 965-8676 or visit www.velvet-jones.com.For more information on The 88, visit the88.net/press.html.