Food & Drink
Baby & Barcliff & Bair
Surviving Life as a New Business Owner and New Parent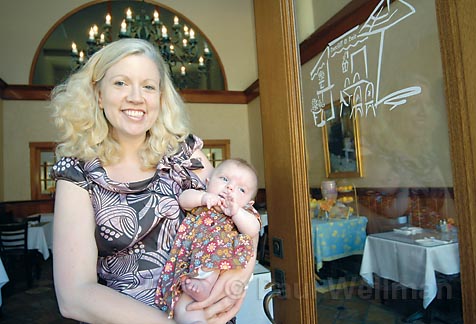 Imagine you decide you want to own a restaurant. Not any restaurant, but a prominently located and heavily trafficked restaurant on State Street. Let's say, like most business deals in Santa Barbara, it doesn't happen overnight. In fact, it takes seven months to negotiate the purchase, during which time you find out you're expecting a baby. One would think this scenario ranks fairly high on the list of life's stressful situations. Yet, for Shelley Shoemaker, this serendipitous unfolding of events could not have made her happier. Shoemaker is the proud new owner of Barcliff & Bair and the glowing mother of baby Gianna, born in March of this year.
Any parents with restaurant experience know Shoemaker must be either extremely experienced and/or incredibly optimistic to undertake such a "twin" birth. Although a food service and hospitality veteran, this is her first restaurant and Gianna is Shoemaker's first baby.
But it's not all about firsts. Shoemaker grew up in the hospitality industry. Her parents own 12 hotels with dining facilities in Ohio, and she is accustomed to the fast-paced, professional atmosphere. Shoemaker received an undergraduate degree in hotel and restaurant management from the University of Louisville, Kentucky, and pastry and culinary degrees from Sullivan College-one of the few schools in the nation with an accredited pastry program. She received a position at the Four Seasons Biltmore Hotel right out of school and has since worked her pastry magic at other area favorites including Brigitte's when it was a pastry shop (now Opal), developed the bakery program at Lazy Acres, and served as pastry chef for the former owners of Barcliff & Bair 12 years ago.
Shoemaker kept the name Barcliff & Bair as she recognized the importance of what the previous owners had created-an atmosphere of refinement matched with a quality dining experience. While successfully maintaining this atmosphere, she has incorporated enough changes to make it her own. Although she kept many favorites such as the fruit and cheese platter, she expanded the menu to embrace her own gastronomic passions.
Sandwiches and salads are considered standard lunch fair, yet Barcliff & Bair's sandwiches and salads, like the ambiance, are of the boutique variety. Take, for example, the Mediterranean chicken sandwich with goat cheese, kalamata olive tapenade, basil, and tomato on focaccia. The combination sends you oohing and aahing through the last bite. If you are serving salad on the Central Coast, it is expected to be fresh, delicious, and unique. Shoemaker is clearly aware of this rule, as the chicken salad with pecans, fresh dill, and celery over mixed greens makes for a distinctively refreshing meal with proportions that do not leave you longing for more or wishing for less.
If you are planning to pass on dessert, do it someplace else. Rich, velvety, and sugar-high inducing, Barcliff & Bair's chocolate brownie is the gateway to chocoholism. The delectable desserts are created in-house and they also serve pastries by Bella Dolce Fine Desserts and Wedding Cakes. Shoemaker makes all the desserts for afternoon tea, which starts up again in late August.
On weekends, Barcliff & Bair is a brunch destination. Perhaps the most unique weekend brunch item is the Veuv-osa Mimosa service, which includes Veuve Clicquot Brut Champagne, a carafe of freshly squeezed orange juice, fresh strawberries, and a chocolate selection ($50 for a split, or $100 for a full bottle) serving 12 mimosas with the full bottle service.
But the big question is: How does a young woman balance restaurant life with the demands of a new baby? Shoemaker offered the following insights.
Get a nanny: "I have a wonderful nanny named Yanna who helps five days a week. I found her through Mother's Helpers."
Involve the baby: "Gianna comes to the restaurant a few times a day on weekends to say hello. It's surprising to see who the 'baby people' are. I discovered many of our regular customers who come in every Sunday want to hold Gianna or say hello to her. She's experiencing a childhood very much like my own, except that we close at 5 p.m. The hotel business I grew up in never closed."
Have a great manager: "I couldn't do it without Tony, our restaurant manager."
Shoemaker also offered advice to working moms trying to balance work and family life: Say yes to help. "We're so used to doing everything ourselves. When you have a new baby, it's a perfect time to keep open to the opportunity of letting people serve. I am fortunate to have a strong network of friends who are like extended family. When I have gone through particularly challenging times, my friends have been there for me. Gianna eats three times between 11 p.m. and 7 a.m.; some of my friends have actually stayed the night to help with the nighttime feedings during a time of family illness."
I also asked Shoemaker if becoming a mom changed her business approach with the restaurant. "I've made quite a few changes to be welcoming and appealing to kids and family," she said. "I've increased outdoor seating with room for strollers, purchased new booster seats for babies, and I have a new kid's menu."
4•1•1
Open seven days per week, Barcliff & Bair (965-5742) is located at 1112 State Street at the entrance to La Arcada Court.