Theater
Shakespeare Santa Barbara Presents The Comedy of Errors
Open Your Ears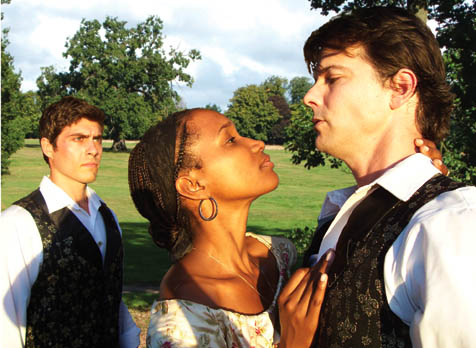 As technology becomes more advanced, we find ourselves more and more reliant on it. I can hardly go a day without checking my e-mail at least three times. Meanwhile, television beckons with its dumbed-down version of reality. How can we escape this language of text message abbreviations that would have George Orwell rolling in his grave? If, as Annie Dillard wrote, "All those things for which we have no words are lost," then-despite the awe-inspiring sleekness of the iPhone-a lot has recently gone missing. This month, Shakespeare Santa Barbara offers us a perfect way to escape the impoverished communication of contemporary life-by opening our ears to the primal language of outdoor theater.
This season's Shakespeare Santa Barbara production of The Comedy of Errors is directed by UCSB dramatic arts professor Irwin Appel. The play, commonly held to be Shakespeare's first, is a rambunctious tale of mistaken identity and all-around befuddlement that promises a wild and crazy evening. "Shakespeare Santa Barbara has a tradition of fun entertainment and makes a fun summer experience," said Appel, "and The Comedy of Errors is a wonderful romp. It also shows the artist as a young man." This comedy, he continues, "plants the seeds that will become fully explored and developed in Shakespeare's later plays," thus giving the audience a glimpse inside the development of Shakespearean style. But for those who still can't shake memories of high school English class, The Comedy of Errors is not to be feared. With the selection of this early comedy, Shakespeare Santa Barbara provides a quirky insight into this master dramatist with what Appel called "a lark of a play."
When asked about his approach, Appel said, "My love of Shakespeare comes from the text and comes from delving into the text and not leaving a single word unexplored." Appel's meticulous attention to the Bard's language led him to emphasize geography in his production of the comedy. "The world surrounding the play is about two nations, Ephesus and Syracuse," explained Appel. "Syracuse is quaint and well-bred, while Ephesus is a bustling and seedy head of commerce." The play is set in the city of Ephesus, where Antipholus of Syracuse and his slave Dromio of Syracuse have come in search of their twin brothers lost at childbirth; Antipholus of Ephesus and Dromio of Ephesus. Confused? Needless to say, two pairs of identical twins bearing the same name lead to a good deal of chaos and confusion-and that's not including the problem of throwing two country boys into a big-city setting. "Imagine," said Appel, "it's as though two boys from Kansas find themselves in New York City." In describing his re-creation of Ephesus, Appel said, "It's the expanse of a big city squeezed into the footprint of a small town." With the red light district squeezed in next to the priory, and the priory next to the center of commerce, Appel hopes to create what he calls "an international ancient feel." "The humor comes from there," he said, "and from the mistaken identity. We are trying to go with the heart of the play and draw in the audience to its world."
Bringing the bustling city of Ephesus to life is a combination of Santa Barbara and Los Angeles actors, including many Shakespeare Santa Barbara veterans (such as Jonathan Drahos, Matt Tavianini, Tom Hinshaw, and Holly Jeanne) as well as a group of UCSB students and recent grads.
"The Comedy of Errors is not Hamlet," said Appel. "However, the experience of sitting outside and listening to [Shakespeare's] language makes it significant. Going and seeing this play gets you outside and away from your TV and computer." An evening spent outdoors, listening to human voices speaking Shakespeare's language without amplification, may be just the shovel we need to dig ourselves out of the numbness of technologically enhanced communication. "Listening to Shakespeare at dusk," as Appel put it, "is an antidote to the modern world."
4•1•1
The Comedy of Errors is scheduled for two sets of performances; the first set will be on August 4 and 5 at 5 p.m. at the Fess Parker Winery. The second set will take place on Saturdays and Sundays between August 11 and August 26 at 5 p.m. in the Casa De la Guerra courtyard. Ticket prices range from $15-$22 and are available on shakes-sb.com and at the door.