News
Fiscal Chaos Plagues Schools
Slashed Budget Yields Mysterious $5 Million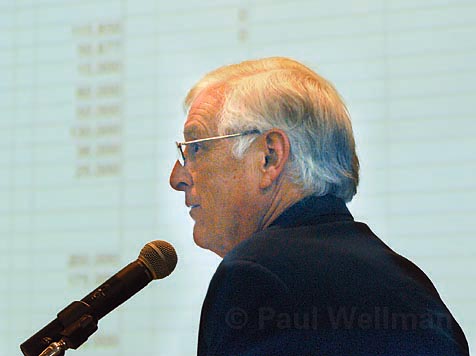 Less than four months ago, the Santa Barbara School District was reluctantly wielding a budgetary ax with millions of dollars worth of teaching positions, after-school programs, and junior high school electives dripping off its blade. Now, in the wake of a somewhat shocking budget meeting in late June, the district-which this spring appeared desperately cash-strapped-has what looks to be some $5 million in surplus cash sitting in its recently adopted 2007-2008 budget. Given the massive difference between the two financial realities-and no doubt responding to School Board members' notable shock over the discrepancy-district Superintendent Brian Sarvis announced last week that not only is an outside accounting firm being brought in to help unravel the mystery but also that the County Education Office is performing its own audit of the district's budget while staff members retrace their calculations to try and explain the origin of the extra dough.
Alluding to the ongoing money confusion and the fact that the controversial cuts levied this past spring might not have been necessary, School Board President Nancy Harter commented this week, "It is just so frustrating :We are trying to figure it out, but the real question is, when we do, will it be too late to get some of these programs back in time for this school year?"
The $3.35 million in springtime budget cuts was designed to offset declining enrollment trends and a newly negotiated contract for teachers that calls for a 3 percent per year pay raise for the next three years. Though bemoaned by board members and the community alike, the cuts were a harsh reality, said the district's money guru Ed Diaz, as not a penny less would have allowed their budget to comply with the state-mandated three-year reserve requirements.
However, on June 29, when Diaz presented the 2007-08 budget for adoption, the extra cash had inexplicably materialized. Trustee Bob No»l, who clashed with Diaz during that revelatory hearing about the murky details of the budget, explained the situation: "All of a sudden it was just, 'Wow! Where did this come from?' It was not clear at all where the money came from. And I'm not sure it is getting any clearer."
With both Sarvis and Diaz currently on vacation and the district director of fiscal services Bob Wolfe announcing his resignation last week, the investigations are not expected to publicly yield any information until at least the August 14 School Board meeting. (Sources, however, maintain that Wolfe's resignation has no connection with the current money confusion.) Both Harter and the interim fiscal services director Shirley Corpuz said this week that they expect the actual amount of excess money to be significantly less than $5 million once the state finalizes its own budget and various end-of-the-year inter-district variables such as site costs and outstanding non-business contracts are accounted for. But not until that number is known, can there be any real discussion of salvaging the programs left on the cutting-room floor.
Regardless of what the final numbers may be, an unexplained multimillion-dollar mix-up is of particular concern for a school district that has publicly claimed budget woes for years. To that end, Harter sees this latest incident as added incentive for the district to form a Budget Advisory Committee, an idea that has been discussed by board members and board trustees alike at several prior meetings. "I think now more than ever we need to get a Budget Advisory Committee off the ground," Harter said. "Not only is it how the city functions, but it just makes good sense."