Theater
The Comedy of Errors
Presented by Shakespeare Santa Barbara. At the Fess Parker Winery, Sunday, August 5. Shows at Casa de la Guerra August 11-26.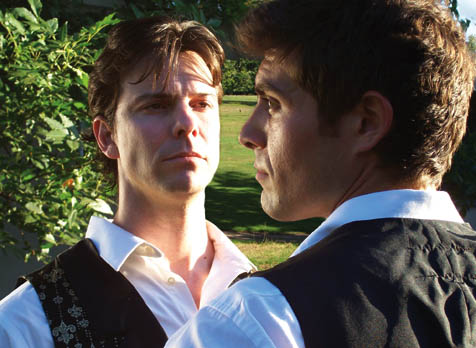 Some theater companies use outdoor venues merely as quirkier settings for the same old thing, ignoring the potential of a more relaxed crowd and an expanded stage. Not so for Shakespeare Santa Barbara, as the group amply demonstrated with its new production of The Comedy of Errors.
The tone of the show was immediately suggested by the set, which evoked a California beach town. To one side, a signpost held arrows pointing away from Ephesus, the Greek city where the play is set, to various other destinations, among them Epidarus, Corinth-and Goleta. It was just this sort of playful detail that characterized the entire performance. At one point, the script was subtly edited so a minor character could recommend the Hitching Post as a place to have dinner, an almost throwaway line that summed up the mood of the afternoon's entertainment-witty, eclectic, and playful.
And this is certainly the right way to present one of the Bard of Avon's funniest comedies. A tale of two pairs of twins who are separated at birth into matching sets by a shipwreck, The Comedy of Errors is an energetic romp, full of potential for slapstick and physical comedy. None of this potential was wasted, and one scene in which a pair of twins, mistaken for the other, is chased by almost every other character in the show left the people in the audience in helpless laughter-and sometimes with cast members hiding from others on their blankets and amid their picnics.
The entire company gave uniformly strong performances, although some of the accents adopted in an attempt to lend verisimilitude were weak. Jonathan Drahos and Paul Haitkin, as Antipholus of Syracuse and of Ephesus, respectively, and Adam Mondschein and Matt Tavianini, as the two Dromios, carried their leading roles with flair. Of particular note was Brian Weiss, as an updated Dr. Pinch, who diagnosed the madness of Antipholus of Ephesus with the fervent hand waving of the most ardent of televangelists.
Certainly, this is Shakespeare presented as he would have enjoyed it. Fun, cheerful, and filled with laughter, The Comedy of Errors is a delightful and charming way to spend an afternoon.