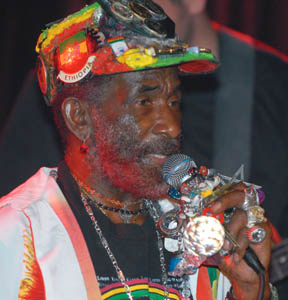 There are moments in life when the circular nature of our existence becomes beautifully clear. Such was the case late last Monday night as I found my ears still ringing with the deliciously dark and captivating beats of Lee "Scratch" Perry and his band, Dub Is a Weapon. Approaching the 24-hour mark of being awake, my day swam around me in a seamless landscape of long car rides, hours of work, a "stolen" purse, lost car keys, and perhaps the single most important reggae show of my life.
A lunatic, a visionary, and perhaps the most significant living figure in reggae music today, the original Upsetter had just blown the roof off of Velvet Jones and I have no doubt everyone lucky enough to bear witness to his performance was still wide awake, grinning irie-eyed smiles. A last-minute show brought to us by Club Mercy promotions, the evening was everything art is meant to be: fun, life-affirming, a little bit scary, and completely unpredictable.
Seventy-one years old and famous for being flakey, the man who pretty much invented modern dub and reggae, introduced the world to Bob Marley and the Wailers, and is well into his sixth decade of being a top-selling performer himself, took the stage well past midnight. The crowd-who had been anxiously waiting for hours-exploded with jubilation. Ganja smoke billowing through the air, Perry stepped to the microphone, his body covered with enough Rastafarian-themed bling to drown Flavor Flav. Raising his hand above his head like a mystic, he urged people, "Repeat after me: I am happy. I am not angry." After numerous rounds of these positive proclamations, the Grand Wizard of reggae figured the room was sufficiently cleansed and-after declaring with a thousand-year-old smile, "You are ready, children"-he opened the doors to his beautifully dark mind. He preached over the surprisingly fresh and full beats of the six-member Dub Is a Weapon Band, crying "I am a God. I am a Mad Man." And by the time his set wrapped up more than an hour later, it was hard not to believe him.