Outdoors
Zaca Fire Incident Information
August 11, 2007 7:30 am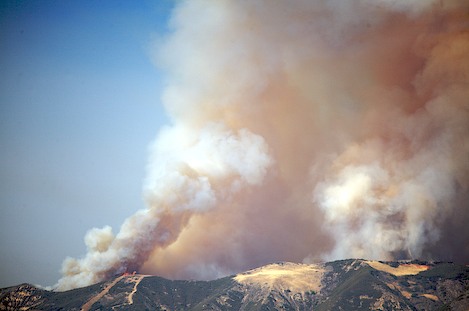 Last Updated: August 11, 2007 7:30 am
Date/Time Started: July 4, 2007 10:53 am
Administrative Unit: Los Padres National Forest / Santa Barbara County Fire
County: Santa Barbara
Location: 15 miles NE of Buellton
Acres Burned: 81,795 acres
Containment: 68% contained – 81,795 acres. Full containment expected on September 7, 2007.
Structures Destroyed: 1 outbuilding destroyed
Threatened: 483 homes and 112 outbuildings threatened
Evacuations: Please call 805-961-5770 for current information on evacuations.
Cause: Human
Cooperating Agencies: Santa Barbara County Fire, Los Angeles County Fire, Ventura County Fire, California Highway Patrol, American Red Cross
Total Fire Personnel: 2,912 (714 CAL FIRE)
Fire crews: 70 (29 CAL FIRE)
Engines: 193 (5 CAL FIRE)
Airtankers: 4
Helicopters: 32 (4 CAL FIRE)
Dozers: 29 (6 CAL FIRE)
Water tenders: 66
Costs to date: $61.4 million
Major Incident Command Team: Unified Command
Conditions: Fire remains in steep, rocky terrain with poor access, making direct fire attack very difficult. The weather prediction for the next 3 days is for very low relative humidity, high temperatures, and a minimal marine layer. Down Canyon winds are predicted for each evening. The fire is well established in the Indian Creek drainage and positioned for large fire growth due to favorable alignment of wind and topography during the day.
The opening of the 154 hwy in conjunction with the anticipated heavy weekend traffic is a concern for firefighter and public safety; however speed and lane restrictions are in place to help mitigate the risk. An evacuation order remains in effect for the Paradise Road and the Santa Ynez River Recreation Area; however the evacuation order for the Community of Peachtree has been lifted.
PLEASE CALL 805-961-5770 FOR THE MOST CURRENT EVACUATION AND FIRE INFORMATION.
Phone Numbers (805) 961-5770 (Zaca Fire Information)