Film & TV
A New Print of Chaplin's City Lights Comes to Campbell Hall
Charlie and the Dream Factory
It was 1931, and a great year for the monsters. James Whale's Frankenstein was number one at the box office, but Tod Browning's Dracula and Rouben Mamoulian's Dr. Jekyll and Mr. Hyde didn't do so badly, either. Street-smart monsters flourished too: James Cagney was The Public Enemy, Edward G. Robinson became Little Caesar, and Peter Lorre sailed into criminal immortality in M. There were Hollywood comedies, but they were mostly satire-edged affairs like The Front Page and Monkey Business. Maybe the "Star Spangled Banner" was adopted and the Empire State Building finished, but there was no surfeit of sweetness. In Germany, Nazis were gaining power, and in Spain, the Third Republic was declared, with the right-wing hovering before clampdown. All of this just two years after The Crash. Things were getting scary.
More vitally to our concerns, however, it was four years since The Jazz Singer ushered in the talkies. And in Hollywood a particularly insular comic named Charlie Chaplin, a perfectionist who hated screen dialogue, apparently didn't know an age of relative innocence was over, that the world was about to get hard for little guys. He made the movie he would later proclaim as his favorite. It starred a selfless tramp, though it wasn't free from monsters either. In January 1931, the technically silent, sentimental, and uplifting City Lights premiered with klieg lights in fashionable downtown Los Angeles. It was years behind its time.
Chaplin wrote, directed, starred, and composed the score. Calling it "a comedy romance in pantomime," the cinematically striking film with its beautiful compositions and deep focus displays the talents of a physical maestro: The Tramp, for instance, pretends to inspect a window display while sneaking peeks at a curvaceous nude statue, and narrowly avoids falling into an opening and closing sidewalk elevator. Or the hilarious prize fight, conducted more like an elegant dance than a piece of baggy-trunks slapstick.
But, of course, the most delicately shaded piece of physical humor takes place between Chaplin and his love object, the Blind Girl, played by Virginia Cherrill, who lived in Santa Barbara from 1948 until her death in 1996, and who was fired (by Chaplin, the perfectionist) from the production for a short time. The Tramp worships the girl from afar, sitting silently to gaze undetected. She calmly stands up, moves over to a nearby fountain, and, as Chaplin gawks, fills a bucket and throws it in his face. It's the most precise cocktail of maudlin sentimentality and unstinting reality principle ever seen on film. The ending, equally, blends the hardness of fate freely with the gorgeousness of a perfect dream.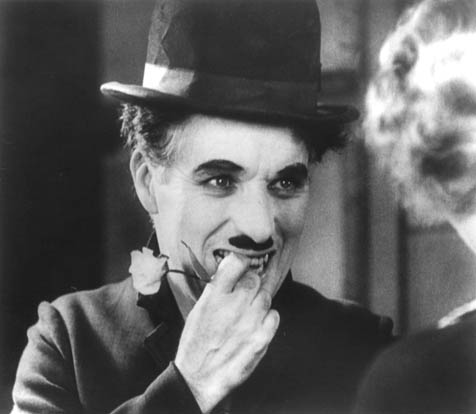 Along with its visual splendors, Chaplin's largely unheralded triumph is his perfect minimalist sound design: a kazoo sounding from the mouth of a sententious city official; a sliding whistle accompanies the elaborate sucking in of spaghetti. The musical score is often stirring with jazzy crescendos, symphonic swells, and jokey referencing of little ditties like "How Dry I Am." For someone grumpy about sound, he nears perfection. All in all, it's hard to imagine anyone today capable of such technical mastery producing such an anomalously beautiful small thing. Tim Burton? But even he needs Danny Elfman.
So where, then, are the monsters? Look closely. Chaplin, who later would satirize the times and the dictators with vicious glee, acknowledges the potential for brutishness in the machinations of the culture he shows-the drunken millionaire is Hyde and Jekyll, the Blind Girl's invisible landlord is a vampire. The Frankenstein equivalent? It's a stretch, but you might want to think of Chaplin himself breathing life into the dead ends of a film tradition. The times had changed; Mack Sennett was making talkies, Fatty Arbuckle's career was ruined and he would be dead in two years. And, all of a sudden, Chaplin turned the exaggerated acting styles, the iris shots, the pratfalls, and longing gazes of silent films into something like high modernism. (It was also the fourth-highest grossing film of 1931, by the way.)
High and low danced together, and the very personal vision became a kind of eternal mythology. Orson Welles once called it his favorite film; it's in Steven Spielberg's top five. Chaplin turned his back on his own times, but rose above, clearing space for Cocteau, Kurosawa, Fellini, and, yes, Tim Burton. It's a sweet film made in a dark time by the perfectionist, the monster-maker, the modern-day Prometheus, the little tramp auteur.
4•1•1
Charlie Chaplin's City Lights screens at UCSB's Campbell Hall on Wednesday, August 22, at 7:30 p.m. Visit artsandlectures.ucsb.edu or call 893-3535.