Arts & Entertainment
The Pretenders, with the Stray Cats.
At the Santa Barbara Bowl, Friday, August 10.
An eagerly anticipated double bill of rockabilly revivalists the Stray Cats and Rock and Roll Hall of Famers the Pretenders proved to be an endearing and enduring mix, trotting out hits from the common intersection of their MTV beginnings to the delight of the sold-out tattoo-and-comb-over crowd at the Bowl.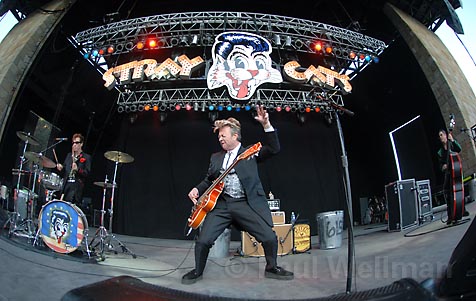 Beneath a neon enlargement of their pompadoured cat logo, the original Stray Cats came off as timeless, proving their collective musical chops during an energetic set of relatively obscure material like "My Baby Left Me" and "Fishnet Stockings" interwoven with the classics. The Cats showcased the punk element of rockabilly with tunes like "Bring It Back Again" and "Rumble in Brighton," and made flip reference to the days "when MTV still played music" before launching into faithful renditions of "Stray Cat Strut" and "Rock This Town." The ever-debonair Brian Setzer punctuated his rich, raspy voice with crisp guitar as bass-slapper Lee Rocker and drummer Slim Jim Phantom clambered atop their instruments, delivering playful, driving rockabilly to the delighted crowd, who lapped it up like a saucer of milk.
As darkness fell, the peerless Chrissie Hynde and her Pretenders took the stage, bringing the entire audience to its feet as they tore through their extensive catalog. Neither Hynde's expressive voice nor her trademark shag has changed a bit over the past quarter-century. A universally recognized trailblazer for female rockers-and, at 56, still hotter than those half her age-Hynde seduced the crowd with her bad-ass persona and edgy confidence.
Hynde & Co. delivered solid renditions of such staples as "My City Was Gone" and "Back on the Chain Gang," along with lesser-known gems like the sinister "Fools Must Die." After executing "Popstar" with sneering sarcasm, Hynde quipped that they hadn't played the Bowl since 1981, "and we're still fucking fabulous : those of us who aren't dead, anyway." Shaking it provocatively for the front rows during "Mystery Achievement," Hynde rocked right into "Precious," snarling, hissing, and delivering expletives with sass and arrogance. Returning for an encore, Hynde exclaimed, "We couldn't do a ballad now : that would suck," then ripped into the lascivious "Night in My Veins" and equally salacious "Bad Boys Get Spanked." Wrapping the set with signature hits "Brass in Pocket" and "Middle of the Road," Hynde made the lyrical declaration, "I'm not the cat I used to be :" But all of the cats who graced the stage have stood the test of time, and emerged rocking harder than ever.