Arts & Entertainment
Crowded House, with Pete Yorn.
At the Santa Barbara Bowl, Saturday, August 25.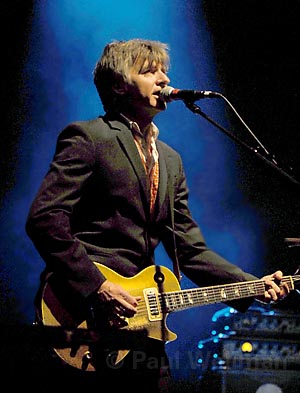 Crowded House fans needn't dream it's over: reunited for their first U.S. tour in more than 10 years, the antipodean pop-rockers put on a mesmerizing show before a crowded, mixed-age house of faithful, melodically discerning fans.
Frontman Neil Finn's son Liam kicked off the show with a manic fuzz guitar and drum fueled solo set, and was followed up by Pete Yorn, whose multiple guitarists lent a layered density to tunes like "Life On A Chain" and "Crystal Village." Yorn interspersed such folksy songs as "Pass Me By" and "Strange Condition" with covers, including a tongue-in-cheek version of Peter, Bjrn, and John's "Young Folks."
Tighter and more confident than at their pre-Coachella warm-up shows, Crowded House's latest incarnation-featuring founding members Finn and bassist Nick Seymour alongside instrumentalist Mark Hart, drummer Matt Sherrod, and the younger Finn-took the stage and delivered an energetic set against backdrops of Seymour's esoteric album art.
The decade between tours melted away as the band trotted out such acoustic valentines as "Fall at Your Feet" and "Whispers and Moans" alongside timeless anthems "Distant Sun" and the cheeky "There Goes God." Crowded House demonstrated their continued musical relevance with introspective ballads from their latest release, Time on Earth, which comprised the backbone of their nearly two-hour set.
The group's solid rendition of "Pineapple Head," brought the audience to their feet, where they remained for the haunting "People Are Like Suns" and the passionate "When You Come." At one chill-inducing point, the band fell silent and killed the stage lights for "Don't Dream It's Over," leaving the audience to sing the chorus.
Turning the encore concept on its ear, the group remained onstage and kicked the energy up a notch for their remaining numbers. The band ripped through a frenzied, edgy rendition of "Locked Out," offered the audience the reins again during "Weather With You," and executed harmonies five voices deep for "World Where You Live." A heartfelt snippet of "Better Be Home Soon" filled the last pre-curfew moments, sending shivers through the crowd as the band's vocals soared into the cloudy night.