Opinion
Save the Eastside's Sisters of Bethany
Campaign Launched to Save Nuns' Home; Plus, Meeting Harry Potter, Finding Al Steinman, and Defending Wendy
Nuns' S.O.S.: A small group of Santa Barbarans are planning to huddle this week and ponder how to save the Sisters of Bethany from being evicted from their Eastside convent.
The Los Angeles Archdiocese has the small convent on its list to be sold to help cover costs of settling sexual abuse suits against priests. The three nuns just learned that they've been ordered to vacate the small building next to Our Lady of Guadalupe by December 31.
Just where they will go remains unclear. But a group that includes businessman Anthony Dal Bello plans to meet Wednesday to discuss an attempt to either buy the property or rent other space.
I broke the story Thursday in The Independent and the L.A. Times featured the story on the front page of their California section on Friday. Sister Angela, 69, who suffers from diabetes and needs a walker to get around, has also been interviewed on L.A. radio and, when I visited Monday, was being interviewed by Spanish language TV.
The plight of the Sisters of Bethany, a small order with three convents in Southern California and others in Latin America, has won the sympathy of the non-Catholic public as well. The Santa Barbara Sisters of Bethany have lived among the Eastside poor for more than a half-century and worked with the needy. "The support from all over has been overwhelming," Sister Superior Angela told me Monday. Eviction to pay for the sins of the priests is "wrong, it's immoral, and it's unholy," said a prominent Santa Barbaran who asked that his name not be used. He's dubbed the impromptu committee: "SOS," Save Our Sisters.
(Coincidentally, Our Lady of Guadalupe is the same church where Father Matthew Kelly was a priest. Kelly, as was reported as The Independent's cover story last week, allegedly molested many boys while simultaneously being a hero of the Eastside. See Nick Welsh's story on Kelley here.)
Rosemary Escalera Gutierrez, real-life sister of Sister Angela, has fired off blistering e-mails. One email explained: Archdiocese spokesperson Tod Tamberg says that he too is paying the price for the pedophile priest scandal, that the Catholic faithful have to share in the price for the sins of the few. His price was not getting a raise. Gee, how does that compare to losing your house and job? Tamberg also says that the Bethany order is sure to "step in" and help the transition. That is simply sugar coating. The fact is that the archdiocese is doing nothing for the sisters. As far as they are concerned, the evicted nuns are on their own. If the church engaged in relocating the accused pedophile priests, some of whom used the transfer to continue their evil acts on new victims, why can't it relocate these nuns to continue their good work? Finally, as a spokesperson, will Tamberg explain why the eviction letter is dated June 28, but not delivered until August 28? As Sr. Angela says, the worst thing is the cold detachment from the hierarchy. If they give a damn about the Sisters it's a well kept secret, for they have heard not one word of compassion from the archdiocesan personnel nor from the local "prince of the church," Bishop Curry of Santa Barbara.
"Thanks for writing the article on the Sisters of Bethany," e-mailed Dal Bello to me. "I have had the honor of knowing the Sisters since they first came to Santa Barbara in1951.This committee will study the pros and cons of purchasing the convent where the Sisters presently reside or finding alternative housing in Santa Barbara. After all the work the Sisters have done for this community in the past 55 years it is time for the community to come to their assistance." If you'd like to help, you can reach Dal Bello at 565-3730.
Loving the December Boys: There's no happier girl in Santa Barbara than 12-year-old Claire Waterhouse, still tingling from meeting Harry Potter star Daniel Radcliffe. Not only did avid fan Claire get to meet him at the L.A. premiere of his new film, December Boys, but she had her picture taken with him and got his autograph.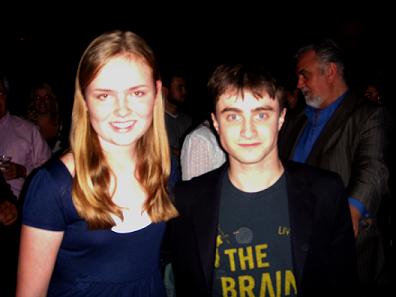 Radcliffe has no more faithful fan than Claire, a student at Notre Dame School. She not only has seen all the Harry Potter movies and owns all the books, but also boasts a full kit of Potter outfits, including a cape. Thursday's encounter at the Directors Guild of American premiere left her jumping up and down and tearful.
Radcliffe was due at the VIP showing but Sue Dobson, who heads the Australians in Film group, could not guarantee that he'd linger after a brief stage appearance before the Australian movie. At the crowded reception afterward, she was told that he'd left the building, but then spotted him inside. Dad Ralph Waterhouse guided Claire over and snapped the photo as the 18-year-old actor posed for a shot. Soon after, his handlers banned all such photos.
I'd wondered if December Boys, directed by Aussie Rod Hardy, was going to be a silly kids-stuff vehicle for Radcliffe. But it turned out to be a moving story of four orphans given a brief outing on Kangaroo Island. Finally free of the cloistered life of a Catholic orphanage, they encounter real life, and in Radcliffe's case, romance with a worldly young blonde. The Warner Independent Pictures film opens October 5 on State Street, according to Metropolitan Theaters honcho Bruce Corwin.
Where's Al Steinman?: "Do you know what happened to Al Steinman at Moby Dick's?" asks Giles. "Al, all of his memorabilia, and the Frank Sinatra music are all gone. They say he went on vacation, but he's been gone for a long time and there seems to be new ownership."
Good old Al, long a familiar mood-maker as manager at the wharf eatery, has retired. But he still retails his portion of ownership. I saw him downtown the other day, and he looked great and sounded jolly.
Wanted: Pro-Wendy Comments: Filmmakers working on a full-length documentary on "The News-Press Story" will be at the Santa Barbara Farmers Market on Saturday, September 15, to talk to folks who support the News-Press and owner Wendy McCaw. "Pro-McCaw and News-Press comments may be on any topic, including but not limited to McCaw's right to run her paper as she sees fit, unionization, local news coverage, and advertising value," said the filmmakers, who plan to premiere the documentary here in January and later on public TV. They'll be at the market from 9 a.m. until 10:30 a.m. The filmmakers already have taped interviews with many people, including former employees.
Barney Brantingham can be reached at barney@independent.com or (805) 965-5205. He writes online columns on Tuesdays and Fridays and a print column on Thursdays.