Living
Mi.el Designs Launches in S.B.
Making it Work
"It'll happen," said 28-year-old fashion designer Elise Smith. "We always say that you need passion, persistence, and personality to do what we're trying to do." What she and her partner, Peruvian Milagros Berrios, are trying to do is make it in fashion, and if passion, persistence, and personality are truly all that are required, this team should be a shoo-in. But it's a safe bet that their effortlessly chic, exquisitely handcrafted designs will have a little something to do with it, too.
Smith, a Santa Fe native, moved to Santa Barbara for college, and began her Gaucho career as a biz/econ major. After spending her junior year abroad in Italy, however, she fell in love with art, and, when she retuned to UCSB, ditched the business major in favor of the art studio. She spent a year at the Fashion Institute of Design and Merchandising in Los Angeles, moved back to Santa Barbara, and then, in 2005, returned to Italy to earn her masters in fashion design in Milan. While there, she and Berrios, a fellow student, decided to start a company together-and while the rest is not history just yet, the two have been living a real-life Project Runway ever since.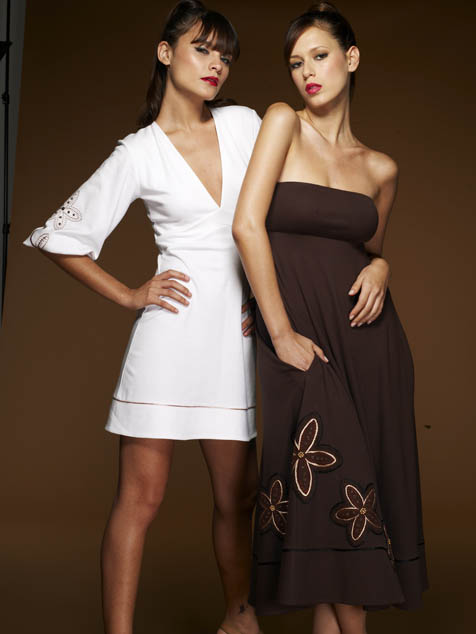 Well, maybe not exactly. There have been, after all, zero trips to the dump to look for materials from which to fashion a frock, but the year has been an impressive whirlwind, fueled by equal parts creativity and productivity, sketches, and-alas-spreadsheets. In the space of the three months Smith initially spent in Per° to get the company (dubbed Mi.el, a combination of their first names) off the ground, she and Berrios put their studio together, hired employees, and created their spring/summer '07 launch collection-a process that included everything from drawing the designs to creating the finished sample garments to doing seasonal projections and purchasing. And then, the real work began.
Berrios remained in Per°, overseeing all aspects of production, while Smith returned to Santa Barbara to handle the marketing, as their first order of business was to establish a foothold in the U.S. And although the logic behind a cross-hemispheric partnership may seem questionable, their setup makes a ton of practical sense, and may well lend them a competitive edge. Smith pops down to Lima regularly so the two can collaborate on each new collection, and between them, they're able to cover-and keep an eye on-all of the other aspects of the process, a benefit that's surprisingly unusual in the world of fashion design. "A lot of designers have to hire out," Smith said. "The design goes to a pattern-maker, which gets shipped elsewhere to be sewn, then it gets sent somewhere else for any hand-work : there are a lot of places where things can go wrong." With the in-house construction team they have in place, "We get to keep that feeling of possession over our designs," she said. And that translates to better quality for the consumer, which is critical with designs like theirs: clean, crafty-looking knits embellished with hand-detailed touches that make them feel special.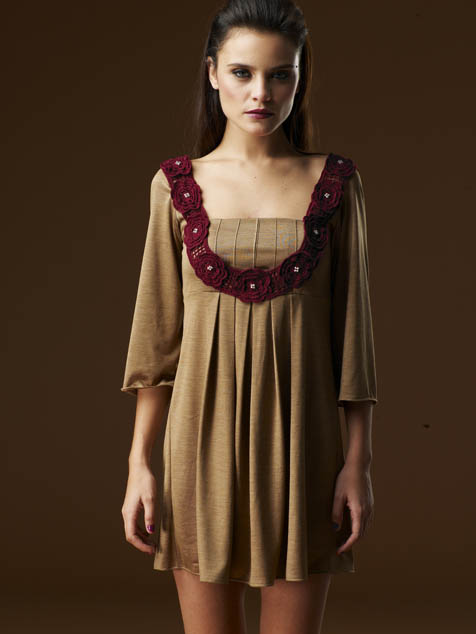 Frankly, they're the kind of clothes that scream Santa Barbara. Knits are known for their wearability, and the designs are the definition of versatile: jeans and flip-flops dress them down for day, while a sexy heel is all you need to hit the town. But getting them onto the racks is the tricky part. Rather than hiring a rep, Smith prefers to shop them around herself, and, thanks to her steady approach, Mi.el is already carried at one store in Santa Fe, one in Denver, three in San Francisco, and two in Ojai (including Two Sisters). And, with only two seasons behind them, Mi.el is young.
"It's hard, but it's fun. I'm not complaining. The best part is seeing my stuff on people; something that you have in your head and then see on people, is kind of surreal. : And it's not bad traveling to Per° and going to textile markets, either," she added with a smile. "But the final product, that's the wow."
4•1•1
For more info, check out mielpinklabel.com.