Arts & Entertainment
Santa Barbara's Matinee Recordings Celebrates 10 Years of Pristine Pop
A One-Man Brand
As Jimmy Tassos takes a few moments to field some questions about Matinee Recordings' forthcoming 10-year anniversary, disorder erupts around him. In two weeks' time, he will be entertaining nine house guests-members of the various bands coming to Santa Barbara to celebrate-and his house is still in the midst of renovations. In orchestrating the happenings of a label that for a decade has remained oblivious to trends, Tassos is obviously someone who thrives on a lack of convention. And this probably also explains why he chooses to undertake it all single-handedly.
"There have been years when we have released 20 records, which is a lot for just one person," explained Tassos. "And I do it all. I design the record sleeves, I stand in line at the post office, I deal with the bands, I take care of the accounting, and I send out the royalty check. But, because it's just me, I'm limited in what Matinee can do. Twenty releases in one year is probably stretching things a little, but we're going to have 12 releases this year, which, for a label our size, is still pretty aggressive. When I'm excited by something, somehow I just seem to get it all done."
And while Matinee has spent the past five years in Santa Barbara, the label's roots are in Washington, D.C., where Tassos held down a day job working on Capitol Hill. And while it might have been the wheels of legislation that initially solicited his professional attention, it was music that serviced his soul. After stumbling across a band called Sweet Water, Tassos decided he wanted to help the fledgling artists release a song. In so doing, Matinee Records was born and quickly became a full-time concern.
"I didn't know anything about running a record label or how to press a seven-inch," admitted Tassos. "But I had designed tons of record sleeves and quickly figured out what I had to do. The response to that release was great, but I didn't have plans for anything after that. As soon as word got out that there was a new label around, I started receiving demos and, within a few months, I soon had a couple other releases planned. One of which was The Lucksmiths."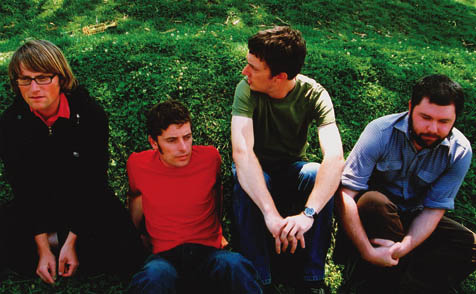 Having been part of Matinee's roster from early on, it is arguably The Lucksmiths that have brought the label its greatest success. This is no small achievement, given that the ensemble is probably the quintessential Australian pub band, infusing their retro pop songs with Australian idioms and local references. But with Matinee nurturing the perfect musical environment from which to launch their sonic assault on America, the Melbournites have flourished.
"Jimmy has not only been a tremendous help, but a great friend to us for a long time now, and that's one of the really great things that has come out of this band," said the Lucksmith's Marty Donald. "It's more important for us to work with people who are passionate about music than those who are concerned with how many records we're going to sell. And I think Jimmy has shown that with that approach, success will come."
Throughout the 10 years the label has been in existence, it has released recordings from more than 35 different acts-predominantly music that is characterized by strong, intelligent, and emotive lyrical content and served up through the very finest pop persuasion. And in embracing bands likes The Lucksmiths, Pipas, and Harper Lee, Matinee has certainly put its best foot forward in that regard.
The Lucksmiths come to town for Matinee Recordings' 10-Year Anniversary Show at Reds on Saturday, and joining them on the bill will be another outfit that certainly fulfils the Matinee musical criteria. Emerging from a Seattle basement, Math and Physics Club chose to bypass the traditional gestation of a band-playing shows-in favor of purely recording. It was a shrewd move because the first port and final call for their demo was Jimmy Tassos.
"They're definitely one of the shining stars for Matinee," offered Tassos. "Math and Physics Club sent us a demo back in 2004. We get a lot of demos and a lot of them make me wonder why they're sending me this stuff at all. I was standing in line at the post office when I opened their package and their letter was so perfect that I was excited about them even before I listened to the recording. I brought it home and put it on and it was great."
With 10 years of history now behind the label and a legacy that has Matinee Recordings firmly established as one of the leading collectors of pristine pop, Tassos is turning his attention toward the future. The reality of the music industry is that, for good or bad, you never know what lies around the corner. And with some of Matinee's longer serving artists currently on hiatus, Tassos is now fostering some new blood, which will ensure that the next 10 years will be just as dynamic as the first.
"There is so much about a label that is out of your control," confided Tassos. "You never know what bands are going to get popular or who is going to sell, or even what is going to happen with bands-whether they're going to continue recording, or if they're going to break up. A lot of the bands I've worked with have been around for a while and are now busy with life and music is taking a backseat. So, in the last two months, I've signed five new bands. It's a very exciting time for [us]."
4•1•1
The Lucksmiths, Math and Physics Club, The Guild League, and Maria will perform at Reds (211 Helena Ave.) as part of Matinee Recordings' 10-Year Anniversary Show on Saturday, September 22, at 4 p.m. Call 966-5906 or visit indiepages.com/matinee for details.