Living
Biggest Pot Bust in Santa Barbara History?
At Least 80,000 Plants Found on North County Ranch
Santa Barbara Sheriffs Deputies seized what may be the largest number of marijuana plants in county history from ranch land on both sides of Highway 1 near Lompoc. One of the ranches involved was owned by the family of Jim Poett, husband of Independent editor in chief and co-owner Marianne Partridge. Sheriff's spokesman Sgt. Erik Raney said none of the property owners were considered suspects, and that they'd been extremely cooperative. It's typical, said Raney, for clandestine cultivators to locate their operations on secluded and remote lands not useful for farming and ranching.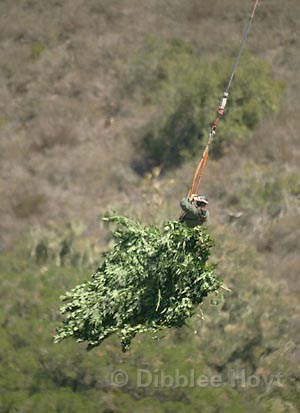 "We aren't even halfway finished counting, and it's very, very, very big," Raney said. As of Tuesday evening, Raney said deputies had exhumed 40,000 plants, which he estimated has a street value of $128 million. The biggest bust prior involved 61,000 plants near Twitchell reservoir in July. Raney disputed reports that the bust was precipitated Monday afternoon after deputies arrested a Mexican national found carrying large quantities of marijuana. Raney said deputies and a helicopter had responded to a complaint of possible poaching when they stumbled onto four separate tracts of land under cultivation. Based on the type of foods found on the scene and the style of cultivation, Raney said Mexican nationals are suspected. No arrests have been made.
According to some reports, investigators are linking the murder of a man found shot to death in a sleeping bag by the side of Highway 154 last week might be related to this marijuana cultivation operation. Raney disputes that, "I wouldn't say there's any legitimacy to that," he noted. Deputies did warn nearby residents to be on the look out for possible cultivators fleeing the crime scene. He said the cultivators didn't have much time to escape. Some residents reported being told that as many as 20 suspects might be in the area.
The volume of pot plants was so great, Raney said, that the deputies chose to bury them on the spot rather than haul them off to the Tajiguas Landfill. Poett volunteered the use of his back-hoe to dig the hole, a task that might take as long as two days. "Once it's in the ground, it's pretty much mulch, "Raney said. "And we're burying it deep. You won't be able to come in under a full moon with a pick-axe and a shovel and hope to find it."