Please read on, enjoy, and then go to independent.com/bands to hear the songs and vote for your favorites. Happy listening!
Rock/Pop
Two Saturdays ago, outside Reds and beneath an inflatable screen silently exhibiting the 1932 film Murders in the Rue Morgue, you might have caught a vaguely demented-looking cellist sawing his instrument while a classically trained keyboardist, a drummer, and a woman painting on canvas in between singing and playing percussion instruments performed along with the film's images. Though the scene seemed a bit demonic, the music was avant garde, power pop-y, and, from time to time, angelic.
Since arriving in Santa Barbara 10 years ago, Bela Lugosi-made up of Misha Bodnar, his spouse/singer/violinist Ingrid, and friends-have released six CDs. Bela's cellist and founder is Misha, of the madly skilled musical Bodnar family. (His mother runs an art conservatory in town and his sister is famed violinist Nina Bodnar.) After surviving an intense series of classes at USC and the Paris Conservatory, and a short stint with the Marseilles Opera, Misha "was saved by Iggy Pop," he said. After a few years playing in the French punk band Venus Bitch, he came home and created Bela Lugosi after watching Tim Burton's Ed Wood.
"I would describe the band as a little piece of Burning Man on a street corner," said Misha. Consider them a performance group rather than an original rock/classical melange, la Beirut or Man Man. On their last CD, We Suck Hard, Misha and his bandmates cover Siouxsie and the Banshees, Khachaturian, and play some of their own enlightened post-punk reveries. Maybe it sounds like an uncomfortable mix, but it's endlessly incisive-particularly when you hear the improvisational drama the Bodnars employ when interpreting classical music.
What do you get when you combine classic rock influences that range from Johnny Cash to Tom Petty, a couple beers, some cowboy boots, a kicking sense of humor, and a standup bass? The answer: Chris Tallman, Scott Freshman, Blair Harper, and CJ Covarrubias-aka the Snobs. Formed in 2004, Tallman (a self-described "natural-born wiseass") describes their creation as an intricate combination of elements that include Mick Jagger, highly advanced skateboard wheels, ocean-side materialization, and the ill-remembered purchase of an amplifier.
Aside from their loveable sense of humor, the Snobs' sound recalls rock greats like Bob Dylan, Elliott Smith, Muddy Waters, and the Ramones. With deep, bass-heavy undertones giving their songs an attractively inventive platform on which to stand, intriguing lyrics that make mention of a daddy "on the roof yellin' at the planes in the sky," and the solid fluctuation between blues, country, rock, and punk guitar riffs, the Snobs are anything but predictable. Upcoming shows include a mainstage performance at the Carpinteria Avocado Festival on October 6 and a stint at the Santa Barbara Arts Festival on October 12. And if you miss those, don't fret. The Snobs play monthly gigs at the band's beloved Santa Barbara haunt, the Creekside Inn. Visit snobsspace.com.
Immaculate Fatality is not the same band that formed in January 2005 from the ashes of two expired thrash metal groups. Back then, they were a disheveled group of metalhead junior high buddies playing in lead guitarist Ben Lee's garage. But the past two years have been transformational for the Santa Barbara natives and their latest six-track release, Formidable Vices, is living proof of this.
From the push of the play button, Vices is rife with the brutal riffs and pestilent soundscapes that are expected of competent thrash metal bands. Even when the tempo drops, the sound manages to remain just as hauntingly unreal. There is never a diffident moment to be found on the album.
Now, the members of Immaculate Fatality are enjoying rampant notoriety in the Southern California metal community, which will soon expand as they plan to bring their show on the road this coming holiday season. The outfit also plans to record new material before the holidays with a new producer and studio.
For a band that once had to fight to be heard in the alleys and garages of Isla Vista, the upcoming tour itinerary is mighty impressive, as it includes Ventura, Bakersfield, Fullerton, Anaheim, Los Angeles, and a medley of other stops that will finally come to a close in San Diego. As they say on their opening number "Apostasy," oh yes, there will be blood. Visit myspace.com/immaculatefatality.
Ventura-bred Santa Barbara staples Le Meu Le Purr has long been a frequenter of the I.V. music scene. With its multilayered instrumentation, impeccable stage presence, and a sound that has managed to survive the critical comparisons that usually pigeonhole most up-and-coming rock outfits, the band has stepped out of the studio and into the limelight with its new release, A New Canvas. The album picks up where the last record, Sweet Smell of Asphalt, left off, but this time around, the arrangements are tighter, the production is slicker, and the sound is a bit more in your face.
"A New Canvas is about starting from scratch, accepting, and being excited about the unknown to come. We've all been frustrated before, whether it's a job, life, relationship, country, yourself, or just being afraid of change. [The album] is all about making your own picture," explained lead vocalist Aaron Johnson. "We really got to take our time with this record. We didn't know what the record was going to be when we started, so each song was treated as its own. We're all really into melody and harmonies, and we'll try any idea that comes to mind."
The result: a collection of deeply personal, sonically daring songs that cross genres and draw inspiration from emo, electro, dance, New Wave, and rock bands of past and present. For sound bites and tour dates, visit myspace.com/lemeulepurr.
Formed by high school friends and mutual guitar veterans Kyran Million and Matt Donner, the two began jamming within the social circles of San Marcos High School, recruiting the help of well-known musician mercenaries around school to create an eclectic mix of instruments and personalities. Each comes from a background of rich musical experience both on and off stage, giving the band a stage presence that is completely performance driven.
Their style is hard to pin down, but their newly recorded batch of songs range from progressive rock to jazz to blues. "Thank You Darl'n" is an airy and bright compilation, filled with jazz riffs, while "The Way You Move" takes on a darker, bluesier tone. At times, their sound is disarmingly melancholy ("A Day Dream"), while at other moments the band sounds decidedly upbeat ("Beautiful").
On October 7, the Majestic Ventura Theatre will play host to The Donner Party as it kicks off its Southern California tour, which will keep the guys on the road through December. They will also be ringing in the new year from the studio, as they have set aside time to record their first full-length release by January. Visit myspace.com/thedonnerpartymovement.
Rap/Reggae/R&B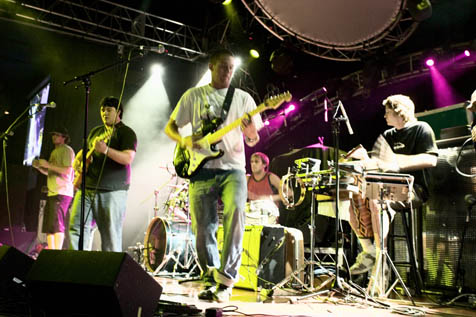 There's something to be said for any band that can capture the undivided attention of a crowd full of drunken Isla Vistans, especially when there are kegs to be tapped and cops to avoid. But roots reggae rockers Iration manage to do it on a regular basis.
Iration's seven members all hail from Hawai'i, but have since settled in equally sunny Santa Barbara. Their music bears the influence of both beachy locales, with infectious beats, flowing harmonies, and track titles like "Walk of Shame" and "Downtown." Their lyrics are simple but effective, as they weave narratives that are as entertaining for their content as for their rhythmic delivery.
A close listening to their recently released No Time for Rest reveals influences that range from dub to classic rock, blues to drum and bass. Iration may call its style "new roots," but it can best be described as the kind of music that begs to be danced to. Transitioning seamlessly from a bass-heavy rock sound to drum-driven reggae rhythms, Iration proves its catchy beats and creative compositions defy easy characterization.
Perhaps the best indicator of Iration's range is the impressive list of artists with whom it has shared the stage: Pepper, Steel Pulse, Don Carlos, The Expendables, Yellowman, Mikey Dread, Natural Vibrations, and Ooklah the Moc, just to name a few. The band is currently touring the California coast to support its new album. And with an October 10 show at the Elephant Bar in Goleta and upcoming appearances at Velvet Jones and the Santa Barbara Beach Music Festival scheduled, Santa Barbarans looking to experience Santa Barbara's very own brand of reggae done right have plenty to look forward to. Visit myspace.com/iration.
If you've ever crawled down State Street or Del Playa Drive on a weekend, odds are you've found yourself drawn to the irresistible reggae beats of Rebelution. Since 2005, these boys have been composing their distinctive "California reggae" style by unifying roots, hip-hop, and rock influences like Don Carlos, Bob and Damian Marley, and Sublime with their diverse Californian backgrounds. What began as an Isla Vista garage band has since exploded into extensive tour schedules and sold-out shows in Hawai'i, as well as up and down the West Coast. With their first full-length CD, Courage to Grow, Eric Rachmany, Marley Williams, Wesley Finley, and Rory Carey have secured a spot as one of the top 10 downloaded reggae CDs on iTunes, and gained an international fan base that just keeps growing, thanks to songs like "Safe and Sound" and "Attention Span."
It's shared the stage with the likes of E-40, Pepper, The Pharcyde, and Yellowman, but the band knows it owes everything to the dynamic Isla Vista shows that spawned its success. As it watches its star rise, and after being courted by record companies and embarking on one tour after the other, Rebelution makes time to bring it back to where it all began, with frequent ocean-side Del Playa Drive shows. "We started in I.V., and a lot of bands start to get famous and don't get to do the free, all-ages shows. But we're stoked because it's so raw; it's real. We love our fans and we're showing appreciation," said bassist Williams. Catch them Friday, September 28, at 9 p.m. at the Marley House (6566 Del Playa Dr., Isla Vista), or at SOhO (1221 State St.) on November 3. Visit myspace.com/rebelutionmusic.
Despite hip-hop's massive popularity among most everyone younger than 40, rap's had a hard time gaining a stable foothold in Santa Barbara. Sure, there are some underground lyricists and deejays-some of whom even hit the stage regularly in L.A.-but the turnouts at even big-name rap shows in S.B. are hit and miss.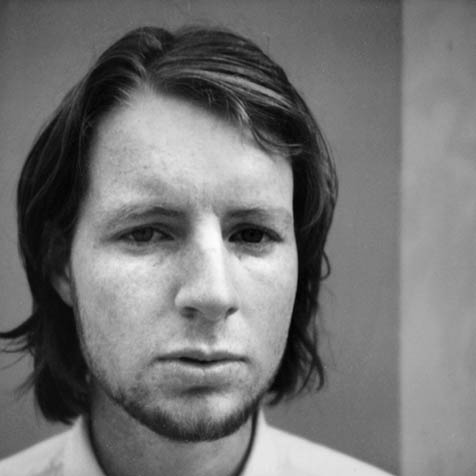 So it was with open arms that we welcomed Intuition's March 2007 release, Stories About Nothing. A rapper originally hailing from North Pole, Alaska, Intuition came to Santa Barbara to do the Brooks photography thing, but stayed to pursue hip-hop. Teamed up with his deejay murjONE (a Santa Barbara High grad), and beat-maker extraordinaire Equalibrum (who recently made YouTube's front page with a bit called "Time Management"), Intuition's solid, professional-grade debut is full of lyrical wit, honest storytelling, and promising flows. Other reviewers agree: OkayPlayer.com claimed it's "the start of something good," while RapReviews.com said Intuition has "all the skills needed to be the next underground rebel."
A photo lab tech by day, Intuition (real name: Lee Shaner) and his crew are regulars on the L.A. scene, rapping at such famed haunts as the Knitting Factory and Airliner. They've hit up many a Santa Barbara club, too-including an opening slot for Method Man at UCSB-but the support is unsteady, a fact Intuition attributes to the small population and the wide diversity of the region's rap styles. So what's his style?
"It's just heady music," said Intuition, whose debut has been described as alternative/indie rap by others. "We like to call it thought-provoking hip-hop."
In between shows, the trio is working on material for a sophomore effort, to be dropped sometime in 2009. Visit intuitionhiphop.com.
Jazz
It's not everyday that you meet an artist who considers himself part heavy metal rocker, part "blues shouter," and part guitarist, and whose finger-work has been compared to that of Stevie Ray Vaughn. Then again, it's not everyday that you meet Alastair Greene. Though blues obviously runs through his veins, Greene hasn't forgotten that his musical roots will always be in rock 'n' roll. As a result, one of his many musical projects, the Alastair Greene Band, is an intricately fused, blues-meets-rock jam band. When he plays, he plays the way he wants to: with a "heavy blues, or blues-rock vibe" that comes across a little differently with each performance. "Jam band blues just means the musicians are willing to take chances," Greene said. And based on his fast-fingered, crowd-moving solos, Greene knows a thing or two about taking chances. Though not everyone is well versed in the history of the blues, Greene is not worried about its survival. "The thing about the blues is it's always going to be there," Greene said. "It's still alive and kickin'." After the release of his band Trio Grande's CD in July and the upcoming release of his metal band Retrodemon's new album, Demonstration, Greene plans to release a solo album within the next year. Upcoming shows include the Carpinteria Avocado Festival on October 6, and performances at Cold Spring Tavern on October 7 and Creekside Inn on October 12. For more information, visit agsongs.com.
Colter Frazier/Rob Wallace Jazz Duo
Here's a common musical experience: You resent mainstream radio because a small grouping of bubblegum-pop hits gets played ad infinitum in a loop, day after day. Meanwhile, new innovative music is nowhere to be found.
Well, you are not alone in your frustration. Artists like Colter Frazier and Rob Wallace not only understand your predicament, they offer a solution. They started the Experimental Music Night at the Biko Co-Op on Sueno Road in Isla Vista to encourage interest in a more unique wavelength of the musical spectrum.
Frazier and Wallace are both classically trained (saxophone and drums, respectively). But the duo's sound might be described most accurately as a variation on the slightly technical term, "non-idiomatic improvisation." Much like free-form jazz musicians, they play off one another's sound and mood to create a musical environment of total freedom and spontaneity. Still, they are careful not to classify their music as "jazz fusion."
"We might play, at times, in the jazz tradition," said Frazier, "but the idea is to not limit the music we make by defining it."
To overcome inhibition, they tap whatever medium necessary for the fullest range of sounds the experience might call for; their techniques range from stomping the floor and smacking walls to exchanging guttural growls.
Wallace deems it the most exciting music, for both artists and an audience, because "everyone is constantly on the edge. : We don't know what's going to happen next, so it is like you get to watch these musicians think with their instruments." Visit myspace.com/colterfrazier.
Folk
Jaret Campisi may've been born in Pennsylvania, but his sound is firmly rooted in Santa Barbara. Playing deceptively simple melodies spiced with unconventional chords and frantic finger work, Campisi is a master at the kind of sweet, surf-inspired acoustic rock that made Santa Barbara's music scene famous.
"My style is like Dave Matthews, Jack Johnson, and John Mayer, kind of all combined," Campisi said. "Ninety percent of the reason I moved out here was that Jack Johnson started here, which is a sad reason, but I was kind of obsessed with him."
From the occasional breaking voice on "Pineapple Sunrise" to the pensive pauses on his track "I'll Get Around," Campisi injects an earnestness and expressiveness into all of his songs. And, according to the man himself, that's what sets him apart from other area musicians.
Campisi's honesty extends to all aspects of his career. When asked whether he's planning a follow up to his 2006 iTunes release "Pineapple Sunrise," his answer was refreshingly candid.
"I moved from Pennsylvania, and I was playing music there for a living, and when I moved here I realized it's kind of expensive, so I ended up getting a real job," Campisi said. "Now I'm trying to work a real job and play music : I record all my stuff myself. I've been lazy lately, but normally I'm always recording new songs. In the past couple months, I've written 10 or 15 new songs; now, I just have to lay them down."
In the meantime, you can catch Campisi at Sandbar from 6-9 p.m. on Friday nights. Visit myspace.com/jaretacoustic.
n an age when stories about starving musicians clambering up the music industry's food chain are as commonplace as Starbuck's Hear Music label that produces them, it's nice to see glimpses of true, old-school musicianship-gritty, underappreciated, and entirely promising. Bruce Goldish, a self-proclaimed New Age Americana guitarist and career vagabond, is poised to become the next Tom Waits, which, at this point in music history, aligns itself with the Second Coming. Don't jump the gun; Goldish is by no means a musical messiah. His finger-style sound, for one, sounds more like flamenco or slack-key guitar than New Age or Americana.
As a showman, Goldish stands to improve. His quirky, almost uncomfortably awkward live improvisations rival the discomfited notion of watching Eyes Wide Shut with children. Nevertheless, there is a sage and mature soulfulness in his meticulously perfected craft that is aggravatingly undiscovered. Below that first layer of imperfection and relative obscurity exists a reservoir of artistic depth and haunting emotion, punctuated by vocals comparable to Bob Dylan or Leonard Cohen. When not frequenting abandoned parking structures, you will find him doing what he does best at venues throughout the city. His next appearance is at the Natural History Museum's Artwalk on Sunday, September 30. Tickets are $8. Visit myspace.com/brucegoldish.
If you had to pick exactly one word to describe the sound of the White Fires of Venus, it would have to be "mellow." Of all the singer/songwriters in Santa Barbara, Jeff Sparks's work on Skin and Light stands out as the CD you want to play while wrapped up in a blanket and watching the rain fall, sitting around a fire, or lounging on a lazy sun-saturated Sunday afternoon.
Sparks began his musical career with the '90s space-rock band Primitive Radio Gods-who scored big with their hit "Standing Outside a Broken Phone Booth with Money in My Hand"-but left the band in 2001 to pursue his own music, working on film soundtracks and releasing albums under the names Duplex and Sparkles in the Milk. The bands played shows around town at SOhO and at Abbot's Habit in Venice Beach, but Sparks soon found himself penning softer material that didn't fit in with the Duplex sound. He attributed a good deal of the change to his writing style. "I usually write late at night, which accounts for the whispering vocal style. : I'm trying not to piss off the neighbors," Sparks said. Inspired by the Denis Johnson poem "Jesus' Son," Sparks created yet another moniker for himself and started recording with Corporate Nightmare Records as the White Fires of Venus. His late-night collection of material became Skin and Light, and follows in the footsteps of other acoustic, atmospheric lullaby rock, evoking strains of Elliott Smith, Leonard Cohen, and Iron and Wine, but still standing out with songs like "Belladonna" and "Ocean View," which reflect the melodious Santa Barbara shores they were recorded near. Visit houseofsparks.com or corporatenightmare.com.
Electronica
Carl Bloomfield, the man behind Small Dot Complex, has grown from a self-described "New Wave addict" to a purveyor of some of the more forward-thinking and experimental electronic music to recently grace our sun-soaked town. And with friends Volt Per Octaves at his side, Bloomfield may very well be at the forefront of a slowly burgeoning ambient scene in Santa Barbara.
On his recently released EP, Sketches, he explores soundscapes that recall Air's work on 2003's soundtrack to Lost in Translation. The predominantly Asian-inspired tracks are mellow ambience in the finest form; winding tracks that incorporate elements of industrial, goth, and synthpop. "On its most basic level, my music could be described as moody and inward-looking," Bloomfield said. "I pull a lot of my inspiration from my own internal dialogues as well as the human condition. Life is both a beautiful and ugly creature and this balance is what excites me."
But for an artist exploring himself through a genre as abstract and underground as electronica, Bloomfield doesn't quite know where-if at all-his particular brand of artistry fits into the Santa Barbara music scene. "It seems to me that club owners are cautiously curious about [electronic music]. They may like [it], but it's not what always brings in the crowds. But that is not to say that the reason why electronic music has not prospered here is solely due to the clubs," he said. "Even in my own performances, because I lack the money to invest in technology to provide visuals to my show, I look like I'm checking my email on stage from time to time." Needless to say, browsing the net has never sounded so good. Visit myspace.com/smalldotcomplex.
Cover Bands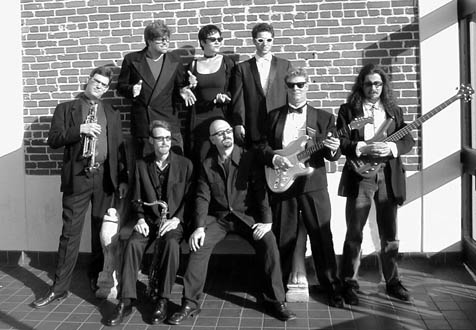 Twelve years ago, Michael Andrews placed an ad in The Indy calling for like-minded musicians to recall the Funky Town tunes of his youth. What Andrews found were seven "soul" mates eager to boogie along with his fun-loving approach to the '70s music revival. They compiled a list of party favorites spanning old-school soul, Motown, R&B, funk, and disco from the '70s onward, and started making musical love.
When Area 51 jammed onstage at 1996's Solstice Celebration in Alameda Park and thousands of listeners danced along to the throwback tunes, the band immediately became a Santa Barbara party favorite. Andrews and Co. started bringing the groove to corporate funktions and lining up crowds at regular SOhO gigs.
By day, Andrews, Mari Martin, Maitland Ward, Steevy Weevy, Steve Fortner, Brad Sherman, Ron McCarley, and Steve Stassi's alter egos include a restaurant manager, a librarian, and a Raytheon employee, but the band said its collective purpose is to "make you forget your troubles, revel in the sound and the music, and serve the community by inspiring a celebration of life." That's the way, uh-huh uh-huh, I like it.
You can join them and celebrate the good times at SOhO on Friday, September 28. Tickets are $8, and $4 with dinner; 21 and older only. Visit area51livemusic.com.
When a fellow musician and friend of Joel Patterson's approached him last year about a "potentially lucrative gig" playing a high school prom, the bassist saw an interesting opportunity. "The prospect of money was intriguing, but the idea of forming a musical group with our best friends that could dip into the angst, humor, and silliness of high school without actually being in high school sounded even more fun," Patterson recalled.
Together with a group of friends and family (Patterson's wife, Erin, sings, and his brother Dan plays drums), the eight-person army now known as Senior Year took to the stage and the rest is musical history.
Arguably one of the youngest cover bands in Santa Barbara, Senior Year prides itself on its zany theatrics, elaborate costuming, and shockingly spot-on renditions of everyone's Top 40 favorites. "A lot of cover bands play songs that appeal to an older crowd, and that's fine. But we take great pains to play only the most current, danceable songs and work hard to play them as well as the actual artists. We also work hard to make our shows memorable, incorporating props and humor into our act as a way of involving the audience. I think we're interested in the entertainment factor as well as the integrity of the music," Patterson said.
Offering up unique yet accurate takes on the "old favorites" (Michael Jackson, Kelly Clarkson circa 2005) and current chart-toppers (Amy Winehouse, Justin Timberlake), the band is constantly revamping its set list-and its look. "We have a similar sense of humor and appreciation for performance art. The themes were something that sort of emerged as we moved into playing local gigs instead of just high school proms in town. We usually brainstorm about the kind of party we'd potentially want to go to, and then decide (after much good-natured arguing) on a theme," he said. And the members of Senior Year certainly like to party; upcoming shows include Rocks on Saturday, September 29, and the Wildcat on October 12. Visit myspace.com/senioryr.
Roy Schmeck and the Schmeck-Tones
These days, There is no more bizarrely invigorating experience in Santa Barbara than stumbling into Cold Spring Tavern on a lazy Friday night to find Roy Schmeck and the Schmeck-Tones rocking the rickety stage. Dressed in garb that's a mix between Grand Ole Opry duds and honky-tonk biker-bar scrubs, Roy and his Schmeck-Tones – namely Eddie Eagle Feather, Arnie Tucker, Barstow, Cletus, Molly McCoy, and Illene Dover – throw quite the bluegrass-meets-country rock hoedown.
Best of all, they tend to perform in front of a screen with pictures of the band touring the world, hanging with celebrities, and being in the right historical places at the perfect times. "I'm an ageless legend," explained Roy, whose alter ego Mark, a house painter by day, admitted, "It's all fiction, man." He created the legend of Roy after buying a Roy Smeck guitar in 1989, and then started casting Roy Schmeck in home movies, long before the music even started.
Visual spectacles and make-believe mojo aside, the Schmeck-Tones have been churning out a steady stream of original tunes for the past three years, and plan to release a CD in the next couple months. Why are so many people buying into the Schmeck-Tones' shtick? "I think it's just happy music," said Roy. "Once people see us, they know we're about having fun. The band has fun, too." Visit myspace.com/royschmeck.