Theater
Ann Magnuson Brings '80s Avant-Garde to CAF
The Past Is a Strange Place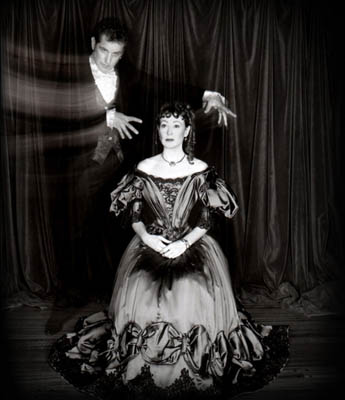 Once upon a time in a city far, far away, where people went out every night of the week and rarely came home before five o'clock in the morning, there lived a woman who embodied the nebulous but absolutely dominant concept of cool known as "downtown." Tonight, October 4, at the Contemporary Arts Forum, Ann Magnuson and her artistic partner Kristian Hoffman will bring the strange frisson of 1980s downtown New York to Santa Barbara, linking us to a time when the East Village was the center of an avant-garde world.
A lot has changed since Magnuson first took the stage at Club 57, the art project/cocktail lounge/cabaret in the basement of a church on St. Mark's Place. A revolving cast of hipsters populated Club 57, and it was there that Magnuson hatched her outrageous and unpredictable mixture of music, performance, and bizarrely ironic new forms of social experience. One long night with Magnuson might or might not have anything to do with the week before. Would the huge alcoholic trucker return to sing "Red River Valley" again? Or would the place be full of recognizable New Wave music stars huddled intently around model airplane kits, cocktails in hand, sniffing glue? You just never knew.
Since those days, Magnuson-who has now lived in Los Angeles for years-has proven to be among the most durable and consistently interesting of her contemporaries, Madonna most definitely included. Together with her longtime collaborator, Santa Barbara native Kristian Hoffman, Magnuson has just released a new album, Pretty Songs & Ugly Stories. Tonight, she and Hoffman will sing and play together, alternating between hilarious, disturbing pop songs and the deliciously decadent and funny stories that have been Magnuson's trademark since : well, since before they closed the Mudd Club. I spoke with Hoffman (who has a great new album out himself, titled simply &) about Magnuson, his own glamorous life, and the wildness we can expect from the two of them when they take the stage at the Contemporary Arts Forum tonight.
Has anything changed since the days when you first met Ann? Well, for one thing, I don't stay out until five in the morning now.
What was the idea for Pretty Songs & Ugly Stories? Pretty Songs & Ugly Stories was conceived as Ann's pop album. She did psychedelia with Bongwater, and she did a lounge concept record, and a lot of other things, so for this one we decided to write the material as melodic and catchy as we could, while still allowing Ann to be herself. She's very good at avoiding self-censorship, and the result is that, even while the melody and the arrangement might be pop, the lyrics are just as outrageous as she is in conversation.
Some of the songs remind me of Debbie Harry with Blondie, and others sound more like ABBA. Are you okay with those reference points? We have always loved ABBA. In fact, I would even go so far as to say that there have been times when we were obsessed with ABBA. The song [on Pretty Songs & Ugly Stories] "What Ever Happened to New York?" is intentionally based on the ABBA song "Like an Angel Passing Through My Room."
Very good; that's a good song. You were in Mumps, right? Yes, that was my band with Lance Loud. We went to Santa Barbara High together.
Will you be doing any of those songs? Possibly. There's a reissue of the Mumps records now on CD. It's called How I Saved the World, and it includes a DVD of a live show.
What was Santa Barbara like when you and Lance were at SBHS? It was amazing to grow up in Santa Barbara in the 1970s. There was literally no connection to reality. Whatever racial tension might have existed was sublimated to the core. My mother was very liberal and socially conscious, and she and her friends would stand on the corner of Anapamu and State in front of the Santa Barbara Museum of Art and sing "We Shall Overcome," and I would think, "Overcome what?" You know? At Santa Barbara High, the prom theme was "We Got Soul!" I mean, really.
How did you and Lance get out? I was accepted to Cal Arts and Lance was not, so first there was that. But then he went to New York and I hated Cal Arts, so I went to New York too. And then I saw the New York Dolls 50 times. [Pause.] I remember leaving CBGB and the bums across the street lit mattresses on fire and threw them at us.
Those were the days. How do you and Ann work together now? Our first band together was called the Bleecker Street Incident [a beatnik-folk parody-Ed.]. I wrote songs for that. For Ann's new album, I wrote 20 melodies and sent them to her. She gave me the lyrics, and then we'd go back and forth. It's pretty democratic. We're not hung up on credit.
Yes, I see. Thank you, Kristian; you are a delight. See you on Thursday. Yes, thank you; I am looking forward to being in Santa Barbara.
4•1•1
Kristian Hoffman and Ann Magnuson perform at CAF tonight, October 4, from 7-9 p.m. Call 966-5373 or visit sbcaf.org.