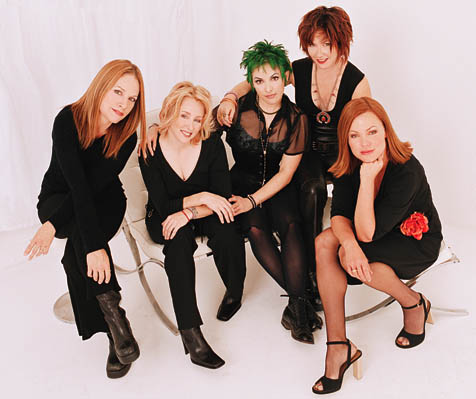 When Belinda Carlisle was considering relocating overseas halfway through the 1990s, her choice of destinations came down to Australia and France. Australia's isolation meant that France inevitably won out and, for the past 14 years, the Los Angeles native and her family have been happily residing there. Which is probably a good thing because, instead of currently savoring her sublime new solo undertaking, Voila-which explores French chansons and classic pop standards-listeners could very well have gotten a record on which Carlisle sings about pubs with no beer.
The south of France is still geographically and culturally far from Southern California. Having carved out a career fronting one of Southern California's first punk-infused pop ensembles, then storming the world as an elegant solo artist, it seems contrast has always characterized Carlisle's musical career. In the space of a few days, Carlisle will be transported from her Gallic base, where she has been quietly reflecting on Voila, to the extraneous excesses of Las Vegas for the start of a Go-Go's tour. And space is something these two undertakings demand.
"I have to make sure there is a space of time between the two, because I have switched gears too fast before and that really doesn't work," offered Carlisle via phone. "Life can become very schizophrenic. I love my career because there are these aspects to it that are totally different from each other. There is my French stuff, my Go-Go's stuff, my solo stuff, and it's all really fun for me, and [it] all offers me something completely different. The Go-Go's for me is like riding a bicycle. It is light, and it's fun. It's probably some of the most fun I have."
Fun is something that the Go-Go's have always musically embraced. Formed in 1978, the quintessential California group first gained prominence in the U.K. After touring with Madness, the Go-Go's spent the better half of 1980 in England, playing in support of their debut single, "We Got the Beat." A year later, they signed with IRS Records and in 1982, their debut album, Beauty and the Beat, spawned the hits "Our Lips Are Sealed" and "We Got the Beat," making the Go-Go's the first all-female band to conquer the Billboard charts.
In throwing forth a New Wave-drenched fusion of pop, punk, and surf rock, the Go-Go's were not just intent on blurring musical boundaries, but also industry perceptions. They held their own next to any of the more masculine ensembles of the time through their music, success, and sheer number of groupies. Their second album, Vacation, further solidified the band's success, but by the mid '80s, the tide began to turn. Their third album, Talk Show, fell short of expectations and by May of the following year the group had disbanded.
With the demise of the Go-Go's, Carlisle set about establishing a solo career. What followed were seven studio albums and a further battery of hit singles. But perhaps the most intriguing aspect of Carlisle's solo undertakings is her collaborative urge. She has recorded with an array of musicians as diverse as Andy Taylor, George Harrison, Brian Wilson, and-most recently-Brian Eno. She has performed with Freda Payne and joined Smithereens frontman Pat DiNizio on "Blue Period." Carlisle has always looked for a musical edge and, when it came time to consider another solo undertaking, such concerns weighed upon her thinking.
"It has been about 10 years since my last solo album, and I have been approached for years about doing another pop album," explained Carlisle. "But I'm just not that inspired about doing that. I've been there and done that, and it's no longer challenging or interesting to me. Since I have been living in France and spending a lot of time here, I have become very familiar with a lot of the French musical artists and icons, so I thought I would give it a shot doing an album of classic French songs."
Carlisle delved headlong into the rich local tradition of impassioned French chansons-so much so that when the time came to record the album, she elected to record it in French. Voila sees Carlisle exploring 11 French classics authored by the likes of Serge Gainsbourg, Edith Piaf, and Jacques Brel. Aching in their longing and vibrant in their exuberance, Carlisle's renditions allow her to effortlessly seduce and charm her way through each composition. And like everything in life, she feels that the album's success comes through finding a balance.
"I think this is where I have always karmically meant to be," confided Carlisle. "By living here I have discovered this whole genre of music that I really enjoy. There is such a wealth of amazing French material. Of course, I wanted to do something a little cliche and a little Parisian, but it was fun to also look for a punk element, like in the Serge Gainsbourg songs. It was important to find a balance. Balance is important on every level. I not only feel very grateful that I can live here, but I also feel very grateful that I can always go back home and touch base. So I really do have the best of both worlds."
4•1•1
The Go-Go's will play the Chumash Casino on Thursday, October 4 at 8 p.m. Tickets range from $25 to $95. Call (800) 585-3737 or visit chumashcasino.com.