Dance
Dos Voces para un Baile
Presented by Ballet Flamenco Javier Bar³n. At the Lobero Theatre, Saturday, September 29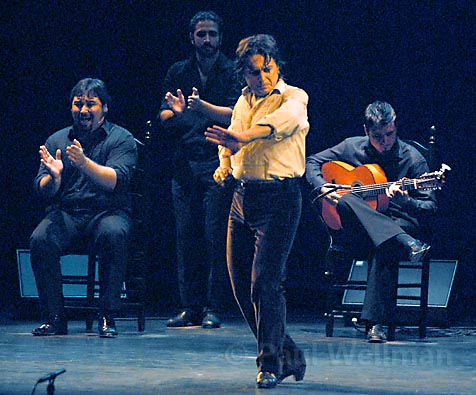 Javier Bar³n's flamenco world is clean, rigorous, and spirited. His take on Spain's classic art distills its heart and soul, without Technicolor distractions or unnecessary flourishes. This essential flamenco experience was on full display Saturday night at Dos Voces para un Baile, where Bar³n created a simplified performance that demonstrated the raw elegance and sheer power of flamenco at its most elemental.
With his impish face and confident energy, Bar³n took total command of the stage each time he emerged from the wings. Encircled by the six other members of the company, he sliced through intricate rhythms and moved with heart-palpitating speed and grace. He wore a chocolate-colored velvet suit and white dress shirt; with his wild hair slicked back, he looked like a handsome, middle-aged dandy. But as soon as his feet took up the rhythms of the Spanish guitar, he was transformed into a blur of energetic delight. Bar³n's casual virtuosity made the detailed patterns of the dances look easy. His ever-present smile cast an easy glow over the evening, and steered the performance away from the dark, maudlin tone that sometimes overwhelms flamenco productions.
For this production, Bar³n chose six musical accompanists whose talent matched his own virtuosity as a performer. The two singers (the dos voces of the show's title), two guitarists, and two men doing palmas (or rhythmic clapping) provided the ideal complement to Bar³n's exuberant and dramatic dancing. Guitarist Javier Patino's versions of songs were heartbreakingly beautiful, while singer Miguel Ortega brought a gorgeous balance of acoustic dissonance and soul-aching sentiment to the stage.
Like the blues, flamenco is an art form that calls out for emotional resonance. A successful performance should demonstrate the essential struggle of the human condition and arouse deep feelings of passion. Dos Voces para un Baile accomplished both, despite-or perhaps because of-the austerity of the male performers and the stripped-down stage production. In throwing out complimentary oles throughout the evening and rewarding the performers with a standing ovation, the audience made it clear that Bar³n sated a collective hunger for a taste of flamenco's soulful core.