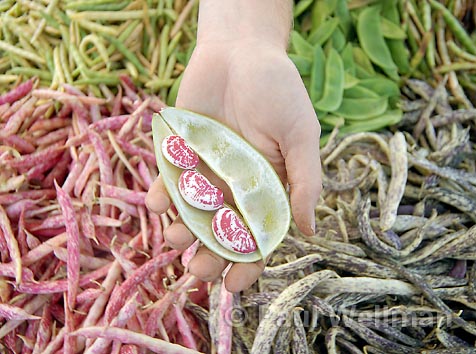 Our farmers markets carry a surprising variety of Santa Barbara County-grown items. At the Saturday downtown market, I've found olive oils, walnut and pistachio oils, roasted, raw, and flavored pistachios, and walnuts. Lily's Eggs (based in Carpinteria) sells fresh, tender organic chicken as well as eggs, and Healthy Family Farms has fresh duck, as well as goat cheese and goat yogurt. Rocky Canyon (near Atascadero) offers grass-fed beef (the filet was excellent, tender and juicy; the flavor was superb, like beef used to taste); they also sell pork and pork sausage. The Solvang Pie Company sells bread made from its own wheat grown in Santa Ynez (try the focaccia). The farmers markets also have seafood in the form of fresh fish and shellfish; I especially love the large, salty local oysters. And, of course, there is a plethora of area-grown fruits and veggies. The past few weeks I've seen lots of fresh shell beans. Try this recipe:
Fresh Shell Bean Saute
(4 servings)
2 Tbs. olive oil
¾ lb. fresh shell beans, such as cowpeas, flageolet, Christmas lima, or black-eyed peas, shelled (okay to mix beans)
Sprig of fresh thyme
Salt
Freshly ground black pepper
1 Tbs. chopped fresh parsley
Over medium heat, place oil in a wide saute pan large enough to hold the beans. Add beans and saute, stirring occasionally, for about five minutes, until the beans have a little color. Add fresh thyme and water just to the level of the beans. Turn heat to low and simmer until tender (20-30 minutes). Remove cover for last five minutes of cooking and let most of the liquid evaporate. Season with salt and pepper to taste. Sprinkle with parsley and serve.