I HEART S.B.: I'm thrilled that Rudy Giuliani, former mayor of the Big Apple and presidential aspirant, likes Santa Barbara so much. In recent months, he's graced us with not one but two visits. I was especially impressed with how Rudy worked the room at Joe's Cafe last Friday-where he conspicuously did not eat either an Omaha, a French dip, or anything else-shaking hands with customers and hugging the kitchen help he would presumably move mountains to deport once elected. But then I've always been a sucker for guys with big shiny foreheads, constant thumb erections, and the sort of cocky charisma that proclaims, "I can kick your ass."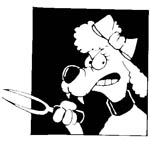 Earlier in the afternoon, Rudy the G-Man had been pressing the flesh at the Biltmore with the likes of Bo Derek, Dennis Miller, Andy Granatelli, and about $100,000 in cold, hard campaign cash. So he could be here in Santa Barbara, Rudy was forced to shine a televised candidates' forum on race relations hosted by Travis Smiley at Maryland's Morgan State. For this, Rudy has received no end of grief. But really, can you blame him? To steal somebody else's line, chickens have more to like about Colonel Sanders than African Americans have to like about Rudy Giuliani.
Had Rudy attended the Morgan State debate, he likely would have confronted indelicate questions about his much heralded mayoral anticrime spree and how it adversely affected the lives of so many black people living in that city. He might have been asked, for example, about Abner Louima, the Haitian immigrant who was arrested at an East Flatbush bar in 1997, savagely beaten on the way to the station, and, once there, raped with a toilet plunger by at least two of his arresting officers. Afterward, for good measure, the officers crammed the penetrating end of the plunger handle down Louima's mouth, breaking many of his teeth in the process.
Or he might've had to weigh in on Amadou Diallo, the 23-year-old immigrant from Guinea who was shot 41 times as officers sought to detain him for questioning in connection with a series of rapes in 1999. Diallo was unarmed at the time and was never implicated in any of the sexual assaults. With incidents like these in mind, it's easy to see why Rudy might not find himself particularly bothered by the extreme interrogation techniques practiced by U.S. personnel at Guant¡namo. But for some of us, it does raise uncomfortable questions as to just what Rudy-an unapologetic hawk when it comes to Iraq-actually means when he talks about going on the "offensive" in the war on terror.
Like many campaigning for president, Rudy is running from his past just as fast as he can. Regarding core beliefs on such issues as abortion, gun control, immigration, and same-sex civil unions, he's flipping and flopping all over the place. Back when he was mayor, Rudy opined how some of the best and most vital citizens of his city were there illegally and how nothing could really be done about illegal immigration anyway. Now, he's all about expanding the wall separating the United States from Mexico. Back then, he was blasting away at the NRA for opposing reasonable handgun controls. Now, he's courting the NRA for everything he's worth.
Like many seeking higher office, Rudy's thinking has "evolved" in light of "new" facts. But at least you can say he had some core beliefs in the first place and people knew what they were. The same does not hold true for Democratic frontrunner Hillary Clinton. Like many people, I wish I liked Hillary more, but I just can't. It's not that I have anything against perpetuating political dynasties based on familial lineage, or that if Hillary were elected-and then reelected-the United States would have been ruled by members of just two families for 28 years. I know it's quibbling, but I still can't get over her vote to authorize the Iraq War. People as smart and shrewd as Hillary don't get misled by someone like Bush on such important matters. They allow themselves to be misled based on political calculation.
While in town, Rudy proved predictably evasive when asked to comment on recent revelations that his close bosom buddy and political confidante Paul Singer, a hedge fund billionaire whose company leases the jet that Rudy flies, had been laundering large sums of campaign cash. Singer, it had just been revealed, was the secret donor behind a proposed statewide initiative that would have changed the way California's electoral votes were counted as part of a clever plot to dilute California's overwhelmingly Democratic advantage. Currently, California operates on a winner-takes-all formula of apportioning its 55 Electoral College votes. Under the Californians for Equal Representation initiative indirectly bankrolled by Singer-to the tune of $175,000-the electoral votes would be divvied up among the parties based on the number of California Republicans and Democrats elected to Congress.
Had the measure prevailed, Republicans would have been entitled to 19 such votes. Singer's donation proved controversial because it had been made through an intermediary organization known as Take Initiative America (TIA), based in a small Missouri town. For several weeks, no one knew where TIA had gotten the money. And last week, after TIA's attorney Charles Hurth III stubbornly refused to identify the donation's source, key players associated with the California initiative resigned en masse.
Hurth had been part of a sneaky effort to funnel Republican campaign dollars to Ralph Nader's campaign in 2004 as part of a strategy to siphon support away from Democrat Al Gore. And, in 1990, Hurth was forced to pay $275,000 after being sued by a woman whose butt he bit in a bar so hard she needed medical attention. It didn't help Hurth's case that he argued the woman should have taken it as a compliment. Last week, Singer finally stepped forward to announce he wrote the check in question. It was written on September 11, the anniversary of the terrorist attacks that helped transform Giuliani from political pariah to demigod-man-of-the-people.
Even though Singer is a key player in Giuliani's campaign, Rudy explained at Joe's Cafe (while not eating an Omaha or French dip) that he knew nothing about Singer's involvement in the California campaign. The subject, it seems, just never came up. The only thing he knew, Rudy said with an impressively straight face, was what he'd read in the newspapers. All I can say is it must have been the funny pages.