Living
Organic Materials
Making the Most of Mulch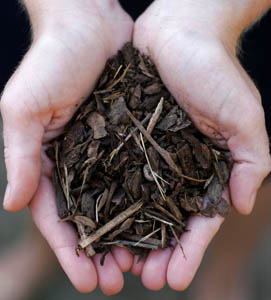 By now, I hope you all are converts to the mulch movement. Its benefits are many: It keeps weeds down, helps maintain soil moisture, adds organic material to be broken down by soil organisms, and provides cover for other beneficial organisms. Fall is a good time to renew the mulch layers in your garden.
If you are worried about the source of your mulch and the possible pathogens it could contain, turn the pile several times throughout a few weeks to partially compost it. Most pathogens can't survive away from their live hosts and composting will encourage the beneficial organisms that fight the pathogens. If the pile begins to smell anything but sweet and woodsy, give it another turn to increase oxygen. The bad smells result from anaerobic decomposers. Spreading out the mulch will also alleviate this condition.
The type of mulch you use should correspond to the type of plant it is surrounding. Coarse, woody mulches such as wood chips are best used around larger trees and shrubs. Lighter, shredded material such as those available from the county green waste recycling program (call 681-4345, or visit lessismore.org/Programs/solid_waste_facilities.html) is fine for just about anything, with the possible exception of seed beds where you want the tiny seedlings to have an easier time of it. Finer mulches-either screened fines from other types of mulch or nicely finished compost-are perfect to top dress ornamental beds such as roses and perennials or spread on newly seeded beds and lawns.
Don't pile mulch right up against the trunks of plants, especially trees and other woody shrubs. The mulch can interfere with the health of the bark of these plants, leading to an increased susceptibility to pathogenic fungi and bacteria. Keep a zone about three inches out from the trunk nearly bare; a smattering of finer mulch is okay.
Expect mushrooms and other fungi to appear. They are a good indicator that organic material is being broken down and made available to other organisms. Eventually, this organic material becomes available to earthworms and is pulled down into the soil where it feeds a host of other soil organisms that keep the nutrient cycle going.