News
Superintendent Brian Sarvis on Budget Woes, Mini-Victories, and the No»l Factor
The $5Million Mystery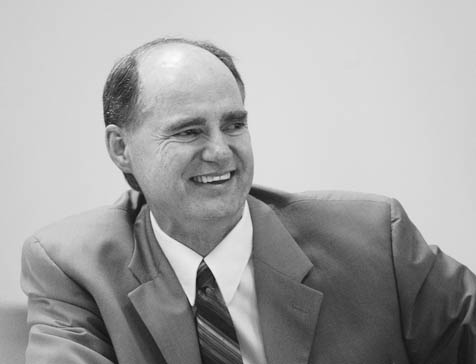 There has been no such thing as easy progress at the Santa Barbara School Board in recent months. Last winter, it was a grueling and contentious salary negotiation process with district teachers that dragged on into the spring. That set the stage for an April decree from staff bean-counters that more than $2 million in immediate and heart-wrenching cuts would be the only way to get the district fiscally sound for the coming year. But it wasn't until this summer when the wheels really came off the wagon: In June, the district's business services director, Ed Diaz, revealed that the previously slashed budget actually had a surplus of nearly $5 million in undesignated and wholly unanticipated dough.
From then until now, the actual account of extra cash has been as tough to pin down as a paper bag in a windstorm-every time the board seems primed to vote on a finalized budget, the number bounces up or down again with no clear answer why. As a result, frustration levels for board trustees, members of the public, and district staff alike have been in full flare. Add to this ongoing concerns about declining enrollment (this year's attendance levels are down, though not as drastically as in past years), the rise in violent youth gang activity, and the annual struggle to meet mandated academic performance levels, and you start to get the feeling that an easy day at the Santa Barbara School District's office anytime soon is about as likely as needing a snowplow on State Street.
There is perhaps no one feeling the heat more these days than Superintendent Brian Sarvis. By job description alone, he is the one ultimately responsible for the safety and success of the district's approximately 16,622 students. In a discussion last week with The Independent, Sarvis reflected on the state of the district. Like many a public commenter at the last several school board meetings, the superintendent had money woes on his mind.
"Having a healthy, accurate, and timely budget is foundational to our district. It was a serious shock to everyone when we heard the news in June," he explained. "We can no longer afford to fail in that process." To that end, Sarvis laid out a process, set to unfold in coming weeks, in which an outside entity-either the state's Fiscal Crisis and Management Assistance Team (FCMAT) or the for-profit firm School Services of California-would perform an independent investigation of this situation and an analysis of the district's entire accounting department. "We have to restore confidence in our numbers for both the public and the board-and even me, for that matter," said Sarvis. "And this is the best way to do it."
However, despite the superintendent's good-foot-forward intentions, the mystery money shell game continued at the September 25 meeting, when the board once again failed to pass a budget. That budget, according to the latest figures, appears to have $1.17 million in undesignated dough. Adding insult to injury, the board also voted to put the brakes on the third-party investigation plan after trustee Bob No»l voiced concerns regarding vagueness and possible bias in the contract language put forth by Sarvis. The board asked for a more specific contract by the October 9 meeting, some five months since it first attempted to approve the final 2006/2007 budget.
With the recent resignation of longtime fiscal services director Robert Wolf and projections that the district will face a multimillion-dollar deficit in 2008/2009, it's easy to see why public trust is running low. Does that loss of faith concern Sarvis? "Absolutely it concerns me," he responded quickly, "but not nearly as much as I am concerned about simply getting reliable budget numbers myself."
At the center of the ongoing budget chaos have been the questions, concerns, and criticisms of No»l. Never in danger of winning a popularity contest among his fellow boardmembers, No»l has worked doggedly to unearth the origins of the mystery money while also publicly calling foul about the district's budgetary process. More than two months ago, No»l first mentioned bringing in FCMAT-the notion was soundly dismissed by his fellow trustees, Sarvis, and business director Diaz. All have since come around to believing an outside inquiry is more than necessary.
Sarvis believes the board's efficiency is often hindered by No»l, as many votes on important issues end in a 4-1 split or 4-0 (with No»l abstaining). And even when No»l has a valid point, said Sarvis, his fellow boardmembers and staffers are slow to see it. "It is more a matter of how he says it rather than what he says," said Sarvis, lamenting, "It is real hard to get people on the same page when they are feeling blamed."
While tact is certainly a helpful tool on any committee, it's far from a requirement and is no replacement for saying out loud the things that need to be said. No»l hammered that fact home last Tuesday, September 25, when he said directly to Sarvis and the staff: "At no time has the public gotten a clear answer as to why [the budget numbers have changed so much]. : It is time for the board to get its own answers."
Amid the stalls, the board did tentatively restore $340,000 in funding for junior high electives to bring back some of the programs, such as performing arts and foreign language classes, that were controversially cut during the misinformed April budget slashing. Though the specifics of what exactly this new money means won't be known until later this month, it's an undeniable bit of good news for students. And that news is brighter thanks to a recent vote by the Santa Barbara City Council to kick in major funding for after-school activities at both the junior high and high school level.
A meeting earlier in September also restored funding for the elementary schools' music programs; combined with a grant from the Santa Barbara Education Foundation, the music programs have been returned to their pre-April level of funding and staffing.
But even though these recent mini victories undid some of the harm from spring's unnecessary cuts, Sarvis believes it's going to be a while before people can begin to trust the process again. "I know it's going to take time to convince me," said Sarvis, sounding upset. "Everything else is really on hold until this budget business is settled up."