Visual Arts
Artist Robert Shetterly Honors America's Real Defenders
Voices of Dissent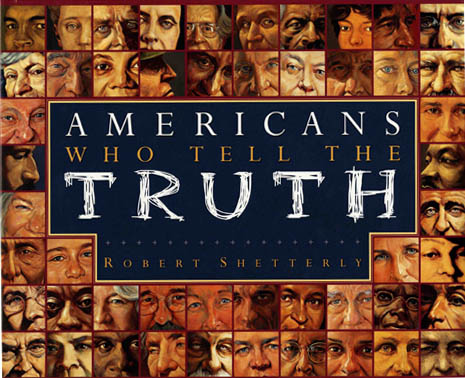 In an art gallery on a street bearing his name, a portrait of Cesar Ch¡vez gazes upon a gathering of Americans who, like him, represent the ideals on which this country was founded. Scratched above his head is a pithy quote from one of his speeches, epitomizing his commitment to those ideals.
Presented by UCSB's Walter H. Capps Center and on view at the Arts Alive! Community Gallery, Americans Who Tell the Truth is a series of 50 portraits of historic figures painted by artist Robert Shetterly. The individuals Shetterly has chosen as his subjects make for a diverse group in terms appearance, but they are unified in their honesty, integrity, courage, and wisdom, which have shaped the true greatness of America.
Some are iconic, immediately recognizable faces of figures whose words and philosophies are widely known and admired. Some are relative strangers whose commitment to justice is of an electrifying magnitude. All have worked tirelessly to ensure that the tenets upon which our democracy was founded are upheld. The eyes of each subject-some fierce, some compassionate, all intelligent and deeply concerned-reflect the courage required to live by their convictions, and their expectant, soul-searching gazes challenge the viewer to do the same.
I spoke to Shetterly about the inspiration behind the exhibition.
How were you inspired to immortalize the images and words of these Americans? I came to it out of a feeling of moral, political, ethical, and historical necessity to respond in my art to this moment in our history. The way that our culture and society hasn't been dealing with the ramifications of our behavior-environmentally, economically, in terms of foreign policy, in our media, the way we educate our children; there's an enormous amount of dissembling and betrayal of our basic ideals. My response had to create dialogue about positive role models for how to deal with injustice, and to honor the incredible people who have fought the good fight to make us a more just and equitable society. I had the quote that's on the Walt Whitman portrait up on my studio wall as a reminder of how to live in the world, and one day I said, "That's what I'll do-I'll paint his portrait and I'll scratch his words into it, and I'll feel better." The response when people saw that picture in my house was so astounding; I realized they were nostalgic for the same sense of the country that I was. This idea just came in a bang. I said, "I'm going to paint 50 portraits, I'm going to call them Americans Who Tell the Truth, and I'm going to give them away."
You've portrayed both very well-known and lesser-known Americans. Have you continued to discover people who are living today who you feel should be included in the series? I'd never heard of probably half of these people six years ago. I've learned about so many interesting people I didn't know, and was just stunned at the quality and determination of their courage, the way they weren't giving up their fights : and I keep meeting people like that.
I understand the series is meant to be nonpartisan, but there seems to be a strong progressive bent to the individuals you honor. That's absolutely true, but I didn't choose them because they are Democrats, or leftists, or anarchists, or Communists, or Republicans. I don't care where they come from in terms of parties. It's about the ideals of the country as I understand them when I read the Constitution or the Declaration of Independence : what I understand the country, at least in its own rhetoric, was established to be.
Is it fair to characterize these individuals as voices of dissent against threats to the values upon which the country was founded? Absolutely. Our democracy depends on dissent. From the signing of the Constitution-when it didn't give rights to more than 50 percent of our population and it didn't free the slaves-there was a contradiction about what we were saying and what we were doing. These are the people who ended slavery, and won us civil rights, women's rights, worker's rights, environmental rights, gay rights. : Every right we have has been won by people fighting to close that gap.
4•1•1
Americans Who Tell the Truth is on view at Arts Alive! Community Gallery (1 N. Calle Cesar Ch¡vez) now through December 31. Call 963-2278 or visit cappscenter.ucsb.edu or americanswhotellthetruth.org.