Dance
Movin' Out
At the Arlington Theatre, Thursday, October 4.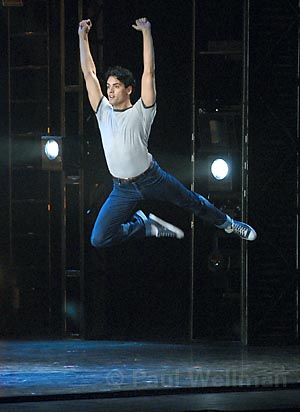 The opener for the 2007-08 Broadway at the Arlington series, Movin' Out is an unusual jukebox musical that unfolds without dialogue, relying on song and dance to tell a familiar story of 1960s high school sweethearts ripped apart by the Vietnam War. The songs, in this case, are classic Billy Joel numbers delivered by a vocalist and a 10-piece band on a platform above the stage; the dances are the work of New York choreographer Twyla Tharp.
Tharp worked with the greats of modern dance-Martha Graham, Merce Cunningham, and Paul Taylor-before founding her own company in 1965. Her work was powerful, energetic, and distinctive: non-narrative, highly technical but casually playful, packed with full-body twists and off-balance lunges.
Then, in 1980, Tharp hit Broadway, and accusations of selling out her artistic gifts for popular entertainment and profit have followed her ever since. Other contemporary dance artists have worked commercially without inciting such resentment; what makes Tharp's crossover so different?
Upon being inducted into the Academy of Achievement in 1993, Tharp acknowledged this perceived betrayal. "It is extremely arrogant and very foolish to think that you can ever outwit your audience," she said. "All you can do is make your sincerest stab at saying, 'Hey, I think you could understand what I'm trying to say if I say it this way.' I don't consider that selling out."
Perhaps it isn't, but it denies the audience their shot of unadulterated Tharp. Choreographically speaking, almost nothing is beyond the reach of this dynamic, prolific, and versatile artist. Tharp has an astounding hunger for eating up space, hurling bodies through the air and across the floor, suspending them momentarily, and tangling them together in carnal heaps, and even in Movin' Out, that hunger comes through-momentarily. At her best, Tharp can lift dance to a higher level. But it's as if the choreographer approached this show thinking, "Gotta dumb it down."
Movin' Out's dancers are stellar-in particular John Corsa as the hunk Tony, and Karolina Blonski as the innocent ingenue Judy-and some of the most interesting choreography goes on upstage, in the ensemble. Downstage, the direction is slavishly predictable. Joel's lyrics are acted out by ditzy be-boppers, swooning war widows, and drug-addicted vets, and redemption is just like a jog in the park. Movin' Out delivers a diverting night. But mainstream needn't mean mediocre. From the likes of Tharp, it's okay to want more.