News
State to Inmates: Get Out and Stay Out
S.B. and Ventura Vie to Host Re-Entry Facility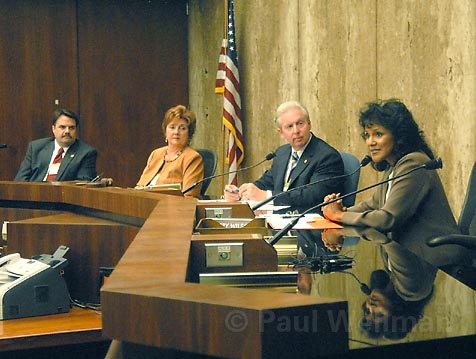 Alarge handful of California Department of Corrections and Rehabilitation (CDCR) representatives met with Santa Barbara law enforcement officials this week to discuss whether the county might host a specialized lockup for inmates returning home from stretches in state prisons. In hopes of their county being selected as a site for the re-entry facility, some two dozen Ventura County officials also attended the daylong convocation at the Santa Barbara County Board of Supervisors meeting room on Friday, October 12.
Currently little more than $2.5 billion in construction bonds and a gleam in the eye of CDCR Secretary James Tilton, the facilities would alleviate overcrowding in state prisons by housing potential parolees in their home communities for the final year of their sentences. There, they can take courses and make community connections that should improve their odds of success outside the prison gates. It is all part of the prisons system's thrust toward reducing recidivism, symbolized by the 2005 addition of "and Rehabilitation" to the end of the organization's former name. "It's not a matter of a choice between exclusively law and order or exclusively social services," said Geoff Banks, Santa Barbara County Sheriff's Deputy Chief of Custody Operations. Sheriff Bill Brown agreed, calling such re-entry facilities "a matter of public safety." Besides their intrinsic value to the host communities, the facilities are also sought after because counties that site one can get additional state funds for county jail construction.
Santa Barbara officials are hopeful about the county's chances of being chosen and have already identified a North County site for a new jail, which they say could also accommodate a 500-bed re-entry facility. Additionally, a small cadre of law enforcement officials and nonprofit workers, organized and prodded by civic activist Rick Roney, began the Santa Barbara Re-Entry Project (SBRP) two years ago. This program could be built upon to serve a facility with the same purpose. Roney was hailed as a hero on Friday by CDCR Chief Deputy Secretary Marisela Montes as well as Santa Barbara law enforcement officials. "He could have been one of the Founding Fathers who signed the Declaration of Independence," enthused Banks.
Although many nonprofits and social service agencies in the county could eventually be involved, Roney said starting with everybody around the table proved too unwieldy. Eventually, he whittled it down to a fast-moving group. Currently operating under the nonprofit umbrella of Good Samaritan Services of Santa Maria, the program is simple: SBRP director Steven Farugie contacts parolees as their release date approaches. Inmates seldom turn down the offer of assistance, which consists of help finding a bed, substance abuse counseling, and job leads.
CDCR statistics show that Santa Barbara County has about 1,220 active parolees. Roughly 70% are expected to return to prison within three years of release. One of the problems with the SBRP, Farugie said, is that by the time the prisoners arrive at their doorstep, many have already returned to old haunts and old habits. Furthermore, Deputy Police Chief Rich Glaus wondered where all the case managers are going to come from. The current parole system was supposed to do the job that Farugie is now doing, he noted, but with caseloads of 80 prisoners each, workers are lucky if they can even keep track of where the ex-convicts say they are living. Farugie's own caseload has now risen to 40 parolees.
At the Friday conference, officials referred repeatedly to the current system for transitioning prisoners into society as "$200 and a Greyhound bus ticket," as though it were already the relic of an unenlightened past. Reform of the present system is far from a fait accompli, but Montes said she was "very optimistic that we'll be able to locate in this part of the state, because the community partnerships already exist to build a re-entry facility."
Final proposals for the first round of funding are due May 8, 2008.