Visual Arts
Glass Love Honors the Art of Surf
Incoming Swell
There is a famous quote from the annals of surf history in which former world champion Nat Young, addressing the derogatory stereotypes of wave riding and the people who pursue it, comments, "We went wrong when we told everyone it was a sport." Since the wave of surfing mania first broke across the landscape of pop culture-blasting a Beach Boys soundtrack and carrying a cute California girl named Gidget all the way from the Pacific Ocean to Ohio and back-it has been gobbled up by the masses like some sort of sweet but hollow brain candy: ideal fodder for commercials, crappy movies, and short-lived, neon-infused fashion movements that viciously betray the true underpinnings of the original Sport of Kings. As a result, surfing has been historically dismissed by most as a childish, shallow-end swimming pursuit, leaving the deeper meanings-both spiritual and artistic-that come from devoting one's life to the ocean and drawing lines across blank canvases of moving salt water on a daily basis as yet undiscovered by the mainstream. Simply put, surfing is art, but your land-loving parents probably don't know it.
Luckily, this underlying truth was never entirely ignored, and as a result surfing has enjoyed a fair amount of street cred in the art world over the years, with both bad and brilliant outcomes. Inspiring authors like Tom Wolfe, giving birth to waterlogged psychedelic visionaries like Rick Griffin, and catching the attention of luminary lens men like Ansel Adams, surfing has spilled over into the work of 20th-century art icons. Similarly, decidedly more underground contemporary artists, like the 1970s "Finish Fetish" junkies of the Los Angeles area and later folks like Raymond Pettibon and Tracey Moffatt, have worked to bring the beauty and transcendence of the surfing experience into the world of fine art.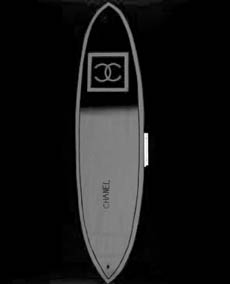 It is with similar intentions that Santa Barbara's Contemporary Arts Forum unveils its Glass Love exhibit next month. The works on display promise to amount to a stirring celebration-if not always an obvious one-of all that is surf. As exhibit curator Miki Garcia put it recently, "The show really is a perfect marriage of a scholarly exhibition and something that is also compelling and made specifically for the Santa Barbara community. I think there is something for everybody."
Timed perfectly to coincide with the bulk of the Santa Barbara surf season, the show, which opens on November 17, looks to follow in the footsteps of Skate Lords, CAF's wildly successful ode to skateboard art of several years ago. Featuring artists from around the globe, though the bulk of them live and work in Southern California, Glass Love, like the surfing experience itself, comes in many shapes and sizes, from Christopher Ballantyne's acrylic, oddly colonial "Tidal Bore" paintings to Cassandra C. Jones's flipbook-style snap-motion reanimation videos of sunsets to Bruno Peinado's post-punk surf shapes with saws through them. "It's not just precious art," explained Garcia. "There are so many different themes within surfing-from alternative culture punk mentalities to romanticizing it. I wanted to explore how contemporary artists are unpacking these many themes of surfing today."
While all of the art works toward Garcia's goal, the true power of Glass Love can only be unleashed by a surfing-oriented audience. Certainly there is no shortage of beauty-soaked and thought-provoking work to captivate both the board-riding and the non-board-riding viewer. But more importantly, there is potential within this exhibition for the lifelong surfer to have his or her daily surfing experience transformed. At a time when surfing seems more at risk than ever of drowning itself in a blur of corporate logos, SUV-choked parking lots, and overpriced, earth-destroying surfboards, installations like Libby Black's "Chanel Surfboard" and Amy Bird's oil landscapes of surfers and strawberry pickers hold up a mirror to the reality of contemporary wave riding, providing a reflection that is as refreshing as a full-channel west swell.
4•1•1
Glass Love: Contemporary Art and Surf shows at the Contemporary Arts Forum from November 17 through January 13, with an opening reception on Saturday, November 17, from 6-8 p.m. For more information, call 966-5373 or visit sbcaf.org.