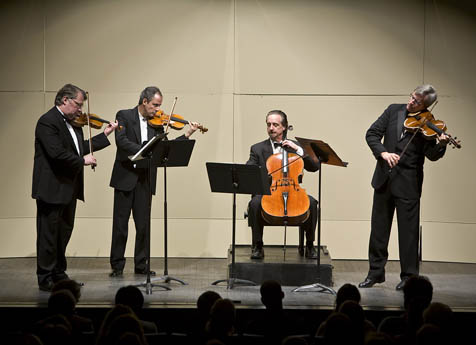 The Emerson String Quartet took the Campbell Hall stage in their signature formation last Tuesday, with Philip Setzer and Eugene Drucker, violins, and Lawrence Dutton, viola, standing in a semicircle, and David Finckel, cello, seated on a platform, all facing the audience. By looking straight out at the audience, they're challenging us to do more than just overhear them as they play-they want us to come with them on a trip to Russia, by way of Vienna. They began with Haydn's String Quartet in C Major, Op. 20, No. 2, one of the three extraordinary "Sun" quartets that represent the beginning of the quartet as a serious genre. As always, the Emerson Quartet kept it in perfect balance, building symmetries with care while allowing Haydn's emotional side to come through. Humor made an entrance in the menuetto, when they traded themes back and forth in a bright, clever exchange. Beautiful and significant in its own right, this Haydn quartet opened the door for the more cosmopolitan world of the quartets to come.
The next piece, Shostakovich's String Quartet No. 4 in D Major, Op. 83, took Haydn's Viennese sophistication to the Russian countryside. Full of complex harmonies and difficult effects, the work nevertheless has Russian and Yiddish folk melodies at its heart, but they're muted, both literally and figuratively. The score requires the players to use mutes for entire third movement and part of the fourth, rendering what might have been a boisterous dance distant and strangely melancholy. It would be too easy to conclude that the composer was representing the spirit of Russian Jews under Soviet oppression. This quartet is more than a political statement, and its sentiment more powerful than mere nostalgia.
After the intermission, our spirits rose with Beethoven's String Quartet in F Major, Op. 59, No. 1. The first of three quartets Beethoven wrote for Count Rasumovsky, it represents a dramatic breakthrough, and the Emerson Quartet gave it the splendid performance it deserves. Melodies soared; cadences thundered; and even Beethoven at the height of his "heroic" middle period has jokes, too. The Emerson Quartet took it all at a brisk tempo, and brought the crowd to its feet with the Russian dance in the "Thme Russe" finale. Whether Beethoven's version of a Russian folk song actually sounds like one doesn't matter much-our hearts danced along with them.