Living
Sheriff Investigates Drug Cartel in County
Body Found in Sleeping Bag, Largest-Ever Pot Bust Linked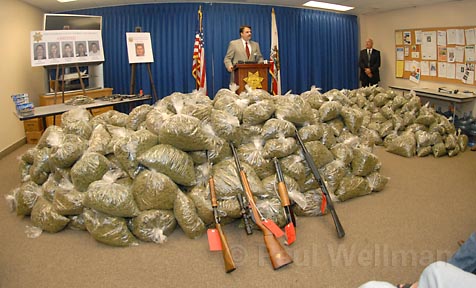 A 23-year-old man found September 17 in a sleeping bag, dead from a bullet wound to the chest, along Highway 154 is connected to a large marijuana plantation discovered about 15 miles away, the production of which has been tied to a large drug cartel, Sheriff Bill Brown announced at a press conference Wednesday.
With a huge pile of plastic bags filled with more than 800 pounds of marijuana sitting in between him and the media, Brown tried to untangle the mixed web of recent events, all coming as a result of investigations which have taken place over the past month. According to Brown, when the body of Adan Ruiz was found at 4 a.m. along Highway 154 about a mile east of Highway 101 detectives were able to quickly determine he was killed in a different location about eight hours earlier.
A week later, on September 24, deputies responded to reports of a suspicious person along Highway 1 outside of Lompoc, and found a man with a backpack full of marijuana. A helicopter discovered a large marijuana grow on both sides of Highway 1 along where the man was walking, including on the ranch property of Jim Poett, husband of Independent editor-in-chief and co-owner Marianne Partridge. (The property owners of the land on which the grow was found aren't involved in the operation, Brown reconfirmed Wednesday.) The more than 90,000 plants at this grow, the largest uncovered in Santa Barbara County history, were eradicated and buried over the next three days, but more importantly opened up a door for investigators looking into Ruiz's murder.
Investigators believed Ruiz, an undocumented immigrant, was involved in an illegal marijuana cultivation operation, and while searching the area around the grow they found evidence, which Brown declined to identify specifically but which suggested Ruiz had been killed near the roadside of Highway 1 only one-quarter of a mile from the grow. "Additional witness information revealed suspicious vehicles and activity occurring on Highway 1 in the vicinity and time of Ruiz's death," Brown said.
Further investigation led the sheriff's department to the Motel 6 in Carpinteria on Via Real, where they arrested nine suspects who they believe to be connected to the Lompoc grow. They continue to investigate the involvement of the nine, but in the meantime have handed all nine were undocumented men over to Immigrations and Customs Enforcement.
Meanwhile, homicide investigators followed leads to Riverside County, in "an effort to identify Ruiz's acquaintances and his activities prior to his death," Brown said. During this time they began watching several residences in Perris, California, and on October 20 served a series of search warrants at three locations there. In the searches, authorities made five arrests, seized 826 lbs. of processed marijuana and more than $80,000 in cash, as well as four rifles and eight handguns. One of those arrested is the younger brother of Ruiz, who was uncooperative and attempted to reach for a firearm when he was arrested. All five arrested are undocumented. Investigators believe the arrests made in Perris are directly connected to the marijuana grow in Lompoc, and have confirmed through witness statements and evidence that Ruiz's murder is also linked to the grow, and that all the events are part of a larger drug cartel. They also believe Ruiz's younger brother was with the murder victim at the time of the shooting.
The seized weapons are still being processed, and their connection, if any, to the murder is unknown. The five suspects have been charged with cultivation of marijuana and possession for sales, and authorities are continuing to develop information from them, Brown said.
While he wouldn't name a specific cartel the department was eyeing, Brown hinted at the complexity in running such an operation. "These are not people living in the boondocks growing a bunch of plants," he said. "They go to great lengths to bring water sources in and to conceal the grow." He added that a "very specific operation" is financing and supplying grows both locally and across the state.
Since border operations have tightened, Mexican drug cartels have resorted to different tactics in getting their drugs to California, Brown said, which means that, while grows used to be common only in Northern California, more grows are being discovered throughout Southern California as well. "It's a very lucrative business," he said. And dangerous. "The individuals tending these grows are typically armed and prepared to defend their crops," Brown said. "The murder of Adan Ruiz, regardless of his involvement with these illegal marijuana operation, illustrates the vicious nature of the persons involved in marijuana cultivation."