Opinion
Father Benny Bavero 1918-2007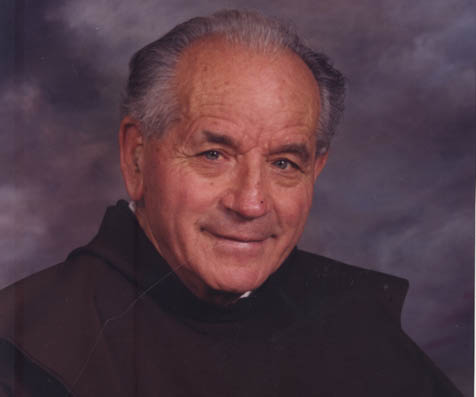 On October 12, 2007, at 10 p.m., the world lost a shining star, one of the most wonderful priests ever to grace our world. Father Benvenute (Benny) "Mike" Bavero, OFM, was the people's priest. He was holy, humble, charismatic, brilliant, and innocent, and also a very handsome man of the cloth. He cared about everyone, no matter who they were. One man he cared for spiritually for 18 years was "Tim," a prisoner currently serving a sentence for first-degree murder at Oregon State Penitentiary.
Father Benny also served as a chaplain, confessor, and counselor at the Los Prietos Boys Camp and at Juvenile Hall. He said mass for the boys at Los Prietos every Sunday evening, even when he was in ill health. The boys loved and respected him, and it was heartwarming to see all the boys in their blue shirts at Father Benny's 60th jubilee celebration at the Old Mission in 2004. He was devoted to the boys in this ministry for many years.
I met Father Benny in January 1997 through Father Vince Mesi, OFM, then pastor of the Old Mission. My husband, Edmund, was gravely ill, and Father Benny came over to give him the Blessing of the Sick. We immediately loved and respected this holy man. Father Benny visited Ed almost every day to pray for him and help the family deal with this sorrow. In March of that year, we were told that Ed's condition had become very critical.
When I called Father Benny to tell him, he expressed his disappointment and sadness and asked me to bring Ed to the Serra Chapel at the Old Mission that day for baptism-Ed had been raised without religion. My mother and brother accompanied us to be his godparents. After Father Benny baptized Ed, he gave him his First Holy Communion, Confirmation, and remarried us in the church. All of this was done in an hour. Based on Catholic writings, we believe that because these sacraments were performed, Ed went straight to heaven when he died a few weeks later.
After the service, I asked Father Benny what I could do to give back to the Old Mission for all he had done for us. "Well," he said, "I need a secretary." He gave me a typewriter, and several months later, I became his devoted volunteer secretary, sending out 200 Christmas cards every year. I also sent out Easter cards and some regular mail during the rest of the year.
I thank God for placing Father Benny in my life. He helped me both spiritually and emotionally, and I don't expect to meet another priest like him in my lifetime. I believe he is now a saint in heaven.
Farewell beloved Father Benny. Pray for us from heaven and for all of the fallen men of the cloth. You will forever be in our hearts and will be missed by all who knew you.