Ira Glass
At UCSB's Campbell Hall, Sunday, November 4.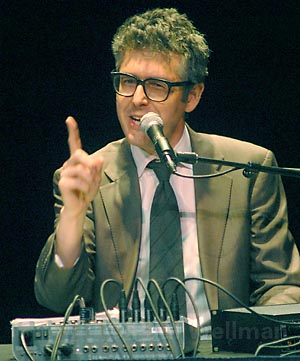 Sitting behind a desk blanketed with audio gear, This American Life host Ira Glass spent last Sunday afternoon creating an entire radio show in front of a Campbell Hall-filling audience. So dedicated was he to his image-free medium, the putative theater of the mind, that he performed the first five minutes in complete darkness. "I tried to convince the organizers at UCSB to let me do the entire thing like this," he said, bringing the lights back up, "but maybe that would only play in Northern California."
While deploying interview clips and music cues with precision timing, Glass exposed the mechanics of his long-running Public Radio International program, which reaches more than two million listeners every week on the airwaves and the Internet. "Radio's great at telling stories, and that's something that radio is always never used for," he claimed in the endearingly awkward style of delivery fans know and love. "One innovation about our show was that we wanted it to be entertaining. We wanted to put on stories and voices you don't hear anywhere else, without it feeling like a continuing education program."
Glass described the niche he and his team sought to fill at the outset: "News tends to segregate the funny and the serious. Because of that aesthetic choice, the world that most broadcast journalism describes is one without surprise, pleasure, humor, or discovery, which makes the world so much smaller than it really is." This American Life, by contrast, fits what he calls "pleasurable surprises" into an engaging form with just the right mix of emotions to ensure the audience tunes in and can't bear to tune out until the end.
"The structure of the stories makes our show different than pretty much everything else on the radio," Glass explained. "They follow action with action; they pull you forward." By way of illustration, he played clips of a father talking about the embarrassing-yet, to the audience, hilarious-time when, having momentarily removed his glasses, he mistook a vertically challenged office intern for his own young daughter. "The telling of a simple story like this makes it more compelling," said Glass, proceeding to examine This American Life's signature alternation of action and dialogue with moments of reflection on the events' more universal significance.
"I think every story is an answer to the question, 'What is the world?'" Glass observed. "They help us make sense of what's around us." If we can enjoy some very human laughs while pondering the issue, so much the better.