Books
Photographer Ashley Gilbertson Gets Personal in Iraq
The Nature of War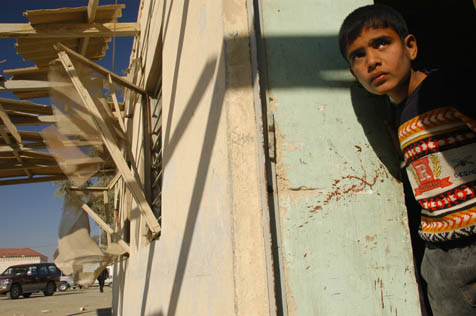 While working on a project documenting the lives of displaced people around the world, Australian photographer Ashley Gilbertson found himself in the midst of the 2003 Allied invasion of Iraq. As an unaffiliated photojournalist, Gilbertson visited the places other photographers wouldn't. His innate empathy with his subjects drew him to the humane side of the action, and what resulted was an emotive spread of images in publications like the New York Times and Newsweek, garnering him the prestigious Robert Capa Gold Medal. But the experience was also a traumatic coming of age for the young photographer. Gilbertson has recently encapsulated his Iraq experiences in Whiskey Tango Foxtrot: A Photographer's Chronicle of the Iraq War, a book that offers insight into his time on the ground-and the personal ramifications of the aftermath. In advance of his November 27 talk at UCSB's Campbell Hall, Gilbertson spoke to me on the phone from his New York home.
How does a photographer from Australia-a land that has never actively seen war-end up in the midst of such a war zone? For the five years before I went to Iraq, I had been working on issues of refuge and displacement, largely inspired by the growing wave of anti-immigration sentiment in Australia. So I made it my quest to humanize these refugees who were trying to find asylum in Australia. That took me to Pakistan and Afghanistan and various communities throughout Southeast Asia where people were trying to get to Australia.
That led you to Iraq? I decided I needed to go to northern Iraq and look at an entire state of people who were refugees, and to see how the Kurdish went about establishing their own state. Given that the Kurds were treated so badly by the Americans in 1991, I went back in 2003 to witness what sort of deal was being struck this time around. I felt that if they were going to be betrayed again, I wanted to photograph what was happening and hold somebody accountable.
But it seems you got much more than you bargained for with that undertaking. I became caught up in the invasion and started seeing men trying to kill each other over ideas of freedom, and I wanted to explore what that meant. I wanted to find out exactly what combat was. For so long I had looked at what skirted war itself, and I decided I needed to look at the central cause of what was causing these people to flee.
Did you meet with much restriction on what you could and couldn't document? This is one of the most restrictive war zones that has ever existed. In the past, if you went out with soldiers and someone was killed, you had to hold the pictures until the next of kin was notified, which was a good rule. Now the rule has been changed to having prior written consent from the soldier or the marine before he gets wounded or killed that says it's okay to publish his pictures. This makes it virtually impossible to produce pictures showing the ugly face of war.
And what about working with Iraqi civilians? That too is much more difficult because the Iraqis generally don't want to be seen talking to a foreigner because they will be targeted by insurgents or death squads as suspected collaborators. So you can't really go and hang out with people anymore and do in-depth photography with Iraqi civilians because they're so scared of being targeted.
That must greatly affect the way you photograph. It's hit and run. If you need a picture of a particular neighborhood for a feature story then you go out and spend a maximum of ten minutes in the street because that's how long the kidnapping gang will take to find out you're there and get you. You're also traveling in armored cars with a carload of armed guards, and when you're out in the street you're surrounded by guards with pistols tucked down their pants. It's not your average day at the office.
As someone trying to tell a story, how do you feel about those restrictions? Some people say it's not worth being there because we're not getting the whole story, but the thing is, we really need to be there to witness whatever we can. If we are only getting half the story, it's still better than not telling any story at all.
How did Whiskey Tango Foxtrot evolve out of all of this? I had been going there for so long that I had an understanding of the place that few other photographers had. Iraq has been the most formative period of my life; not only did I come of age in that war zone, but I also became personally invested in the story. At the beginning of the war, I wanted to see the Americans come in and overthrow Saddam. I thought the guy was a monster and I thought the Americans would come in, oust him, and install someone who was a humane leader. I was completely wrong. When I saw money raining from the sky after the Kurds had blown up the Central Bank, I realized that perhaps this wasn't the right thing-perhaps post-war planning didn't exist. As time went on I lost more and more hope that the Iraqis could install democracy. So that loss of hope and being so invested in the story is why a book came out of it.
What has been the hardest experience for you to come to terms with? Lance Corporal Miller and the minaret. I had requested to see the body of a dead foreign fighter in a minaret, and a squad of Marines was sent with me. This was during the Fallujah offensive in 2004. We got to the minaret and I told Miller and Dominguez-the two marines who were with me-that I would go in first, but Miller demanded to go first, and got shot point-blank by an insurgent who was waiting in the minaret. For years I felt responsible for his death. I now realize that he was a marine doing his job. I have been in contact with his family, and that makes it a little bit easier to manage, but I still feel guilt over what happened. What if I hadn't agreed to have a squad go with me? I would be dead, but at least I wouldn't have to live with the blood of someone else on my hands.
A poignant aspect of the book is that it shows us such ordeals are by no means isolated. I think everybody in that country has an experience akin to Miller and the minaret. Everybody feels guilt over something. A battle finishes when the last shot is fired, but that battle for me will never finish. I was talking to a solider just last weekend about one of the guys in his unit who was killed, and he said if only he had pulled his Bradley just three yards forward he would have saved the guy's life. You're constantly reassessing how you might have done things differently. But that's the nature of war.
4•1•1
Ashley Gilbertson will give a free talk at UCSB's Campbell Hall on Tuesday, November 27, at 8 p.m. Copies of Whiskey Tango Foxtrot will be available for purchase and signing. For more information, call 893-3535 or visit artsandlectures.ucsb.edu.